Rental Insurance and Collision Damage Waiver
Protection Coverage Options
If your auto insurance will cover the rented vehicle for liability and physical damage
(Comprehensive & collision), you can provide Byerly RV with a binder/rider from your insurance company.
The binder/rider will need to list the rental vehicle make/model/year/Vin # and list Byerly RV Rentals as an
additional insured.
EACH DRIVER WILL NEED TO PROVIDE A SEPARATE BINDER/RIDER UNLESS THEY ARE STATED AS INSURED
ON THE SAME POLICY AS ANOTHER DRIVER.
You can choose not to bring a binder/rider or choose to not purchase a Collision Damage Waiver and all damages and liabilities will be the responsibility of the primary renter.
Renter and all drivers listed on contract must present current insurance cards and provide additional $2,500 deposit.
You can choose a Collision Damage Waiver option from below.
All drivers must still provide current insurance cards to Byerly RV.
Liability insurance will follow the drivers insurance.
All physical damage of the vehicle will be covered with only deductible as out of pocket expense.
Motorhome (Under 32')
$24.95/day

$1000 deductible per incident
$500 Reservation deposit +
$500 Add'l deposit = $1000 deductible

$32.95/day

$500 deductible
Motorhome (Over 33')
$32.95/day

$1000 deductible per incident
$500 Reservation deposit +
$500 Add'l deposit = $1000 deductible

$42.95/day

$500 deductible
Travel Trailer 
Included

$500 deductible per incident

$12.95/day

$250 deductible
STATEMENT OF BYERLY RV'S RENTAL REPAIR POLICY
In order to maintain a current fleet, Byerly RV fixes all damages to "as new".
Rental vehicles are moved into used sales inventory every 12-18 months.
Repairs may not be fully completed during season in order to maintain our obligations to customers who have reservations.
---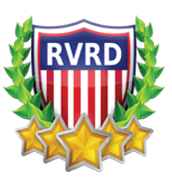 USA 5-Star is the highest quality standard in both product and service within the RV rental industry. The 5-Star RV rating exists to inform the consumer of the quality of the RV rental and, also, as a means to more accurately compare RVs. For a business to become a USA 5-Star dealer, they must maintain a customer satisfaction index of 95% or more.
Selecting a quality RV rental company will determine the type of experience and memories you will have. Just like the hotel industry, there are both Motel 6 and Marriott options. While National RV rental companies focus on the price conscious, one-time international customer; USA 5 Star members focus on the customer that wants a quality experience for the best value. Feeling confident in selecting the RV rental company will play a big part of your overall experience.
That is where the USA 5 Star RV Rental Network comes in. USA 5 Star RV Rental Network is a network of independent owner operated dealers committed to provide the best in customer service and RV rentals in the country. Members of the network are scrutinized and determined if they represent the best in their market for RV rentals. If they qualify, they are invited to participate as a member of the Network. As a member, they are then reviewed on an annual basis by fellow members to make sure they are meeting the USA 5 Star standard.