Priority RV Network Insurance Program
Consider the risk before insuring your RV to your auto policy. Only affordable Specialized RV Insurance offers you the proper insurance protection on Your RV investment.


We offer the lowest rates and best coverages in the RV industry. Don't be under-insured. Our specialized insurance protects you and your RV—24/7. Our agency provides superior value and the nationwide service you would expect from Priority RV. Ask your dealer for your FREE no obligation quote now. Superior RV insurance value for you!

For a FREE QUOTE contact Byerly RV at finance@byerlyrv.com

Your RV is more than a car and your affordable Specialized RV insurance should cover more than a typical auto policy, or even a homeowner's policy. Adding the RV to your auto policy is risky business and exposes you to serious financial risk in case of an accident. Affordable Specialized RV Insurance is comparable from a cost perspective to a policy that you would get through typical auto insurance.

Priority RV Insurance quotes up to six insurance carriers for the best quote price and features. For example, here are just some of the many advantages Progressive specialized RV Insurance has over your typical auto insurance policy.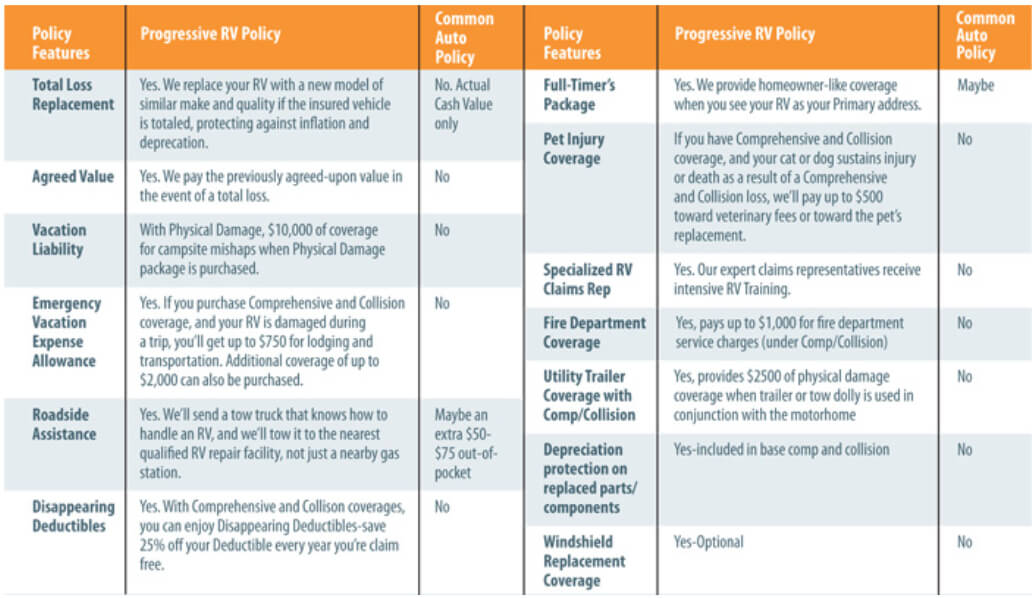 Money-Saving Discounts
On top of Priority RV Insurance's great rates, we offer a number of money-saving discounts:
Multi-Policy Discount
Original Owner Discount
Paid-in-Full Discount
Responsible Driver Discount
We Value Your Business AND your loyalty - immediately with Priority RV Insurance's comprehensive and collision coverages. You'll receive these great FREE benefits:
Pre-Approved Network of Repair Shops
Access to trusted service with guaranteed repairs.
Emergency Vacation Expense Allowance
You get lodging and transportation if your RV is damaged during your trip.
Paid-in-Full Discount
You do NOT get a rate increase after a minor accident or claim.
Priority RV Insurance Experts At your service
Our expert claims representatives receive intensive training on RVs of all types. You can be confident that your claim will be handled right and the right away! They're here for you when you need them with customer service and claims Support 24 hours a day, 7days a week.
For a FREE QUOTE Contact Byerly RV at finance@byerlyrv.com
Millions of RVers may be underinsured and don't even know it. Consider the risk before attaching your RV to your auto policy. A claim could cost you.. THOUSANDS OF $$$!!! Our quotes are affordable and may be about the same cost as an automobile endorsement, but with specialized RV Policies such as:
TOTAL LOSS REPLACEMENT
This optional coverage replaces your vehicle with a new one of the same value. It protects you against depreciation and inflation. Unlike your typical auto policy that only pays actual cash value. This could save you thousands of dollars.
VACATION LIABILITY
Provides premises liability coverage while parked at a campsite or RV park. Medical bills for nearby campers' injuries that occur at insured's campsite.
EMERGENCY EXPENSE
Optional protection that pays your temporary living expenses, plus the cost to get you, and your RV, back home.
PERSONAL EFFECTS COVERAGE
Protects your personal belongings while RVing.
EXTENSIVE PHYSICAL DAMAGE PROTECTION
Coverage against sudden and accidental loss due to a collision, fire, windstorm, landslide, vandalism and other perils.
AND MANY MORE COVERAGES AVAILABLE INCLUDING:
Audible anti-theft devices
CDL Licenses
Fiberglass Body
Rubber Roof
Safety Courses
Motorhome Air Bags
Anti-Lock Brakes
Garaged Motorhomes
Commercially-used RVs
Stationary RVs
Consignment RVs
Golf carts, scooters & small boats
Secured storage personal effects
Custom equipment...& More!!!
For a FREE QUOTE Contact Byerly RV at finance@byerlyrv.com