About Us
Byerly RV has celebrating 75 years of helping St. Louis discover the benefits of the RV lifestyle. A recipient of five straight Top 50 Dealer Awards for North America, Byerly is a local St. Louis company in its third generation of ownership by the Patton family.
Byerly has a unique history in the RV industry because it began as a manufacturer. Walter Byerly was a cabinet maker, and he began building travel trailers in the basement of his home in Kirkwood, Missouri. By 1948 Byerly Trailer & Manufacturing Company was officially organized and moved into its first building on Manchester Road in Des Peres.
In 1967 John Patton sold his service station, where he had rented folding campers, and purchased Byerly Trailer & Manufacturing Company, transforming it into an RV dealership. At that time the company had only six employees, including Walter who stayed on to help with service.
In 1971 Russ Patton, John's eldest son, joined Byerly after serving in the Marine Corps and spending a year running an RV manufacturer in Elkhart, Indiana. By 1975 Byerly had relocated to new facilities on Manchester Road and Weidmann Road in West County.
As the company expanded into sales it also became a leader in providing quality RV parts & service. The company's Parts department carried many difficult to find accessories purchased directly from RV manufacturers in Elkhart. In 1984 Russell Patton bought the company from his father, John. During the following years he would cultivate the brand of Byerly through quality service, excellent value, and the well-known local jingle heard throughout the St. Louis region, "For the rest of your life." Russ told stories of the RV lifestyle and the history of Byerly RV on radio and through Outpost Magazine.
In 1999 Byerly completed the construction of its current headquarters in Eureka, Missouri and coined the slogan, "The Center of the RV World." Russ commissioned two local artists to paint the iconic showroom murals which have been featured across RV industry publications.
When Byerly moved to Eureka, the company had 24 employees. For many years this century, Byerly RV has been the number one motorhome and travel trailer
dealer in the St. Louis area as well as the state of Missouri. The dealership's facilities feature the largest retail service center, the largest RV parts/accessories store, and the largest RV rental fleet in the area.
In 2015, Russ's son, Warren Patton, took over as General Manager and later purchased the company from Russ in 2020. Warren, who received his MBA from Washington University in St. Louis in 2022, has led the company through record years as the industry has grown. During that time Byerly has invested in developing and growing their team of over 90 employees, as well as new ways to engage with customers like their YouTube Channel (www.youtube.com/@byerlyrv) featuring RV tips and monthly seminars.
Additionally, in 2023 Byerly made its biggest investments in its 75-year history by expanding its footprint with a new Body Shop in Troy, MO, plus adding a brand-new state of the art 16-bay Retail RV Service facility, outdoor RV Self-Storage, and 88,000 square foot premium valet climate-controlled Indoor RV Storage facility at its headquarters in Eureka.
Because of Byerly's strong reputation and history, it has built relationships with top brands including Tiffin Motorhomes, Winnebago, Alliance, Keystone, Coachmen, East to West, Thor Motorcoach, and Forest River. Byerly RV is also the only member of the Priority RV Network in the state of Missouri. Priority RV Network has over 100 independently owned locations in the United States allowing for emergency service across the country for RVers who purchase from network dealerships.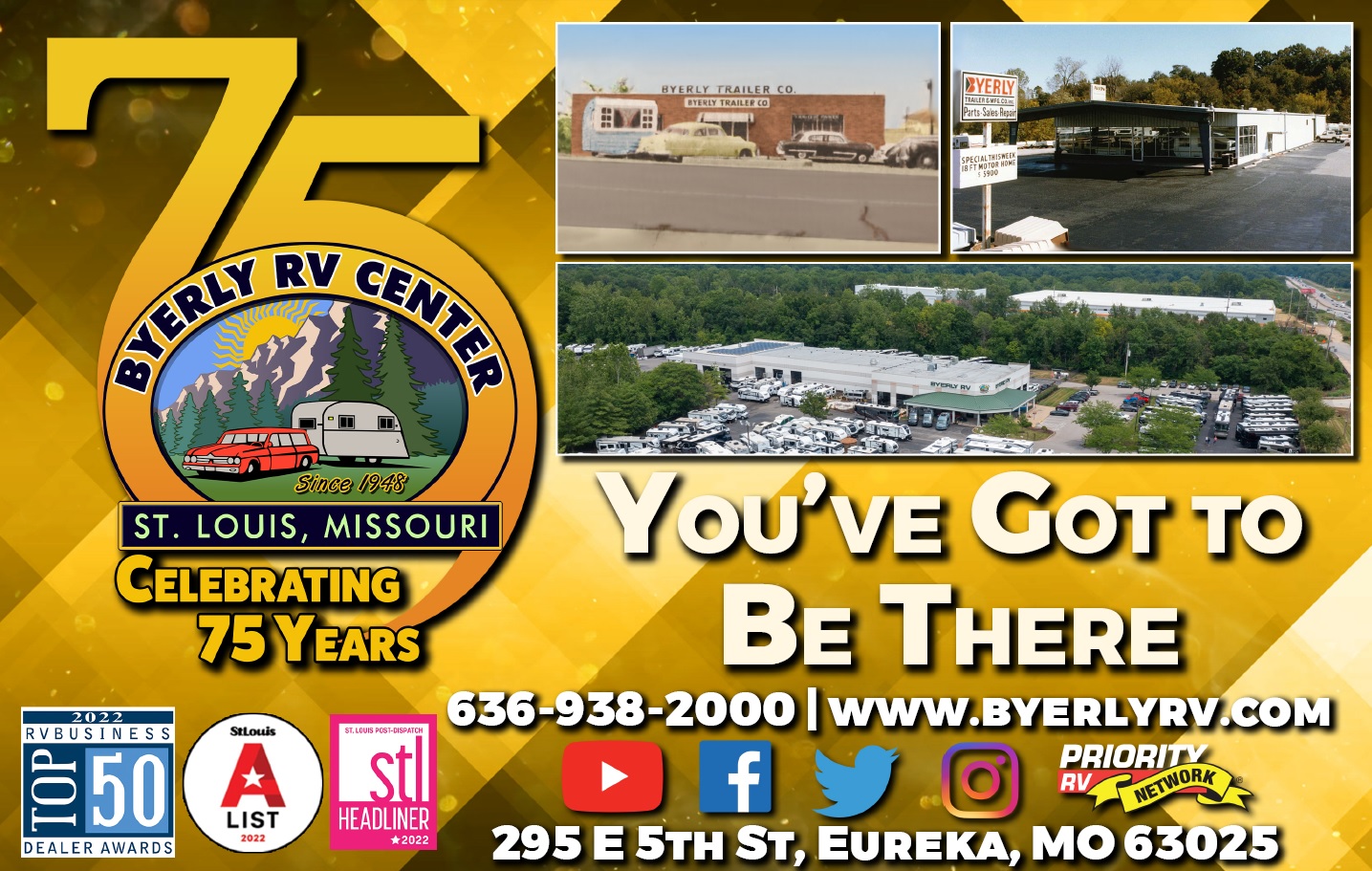 Come visit Byerly RV in Eureka, MO and see the expanded state of the art facility, as well as some of our original Byerly trailers on display.
Staying The Course (RV Pro Magazine)
Dealer Profile From Roughing It Smoothly
Priority RV Dealer
Byerly RV on Heartbeat of America
Byerly RV on "Summerall's Success Stories"
Byerly RV on "The Competitive Edge"