Additional Rental Options
*ALL ITEMS SUBJECT TO AVAILABILITY*
Drop & Go

$99/trip

Customer is not responsible for cleaning of interior / exterior and dumping the black and grey tanks prior to return. If not purchased and returned without the listed completed: Charges upon return are as follows: Interior Clean $100, Exterior Clean $75, Dump Tanks $40

Cancellation Protection

$89/rental

Cancel anytime, up to 24 hrs. prior to your rental and receive full refund of the $500 reservation deposit. *(RECOMMENDED)

Generator Package

$50/trip

Unlimited Generator Usage.  Otherwise, 6 hrs./day included and $3/hour after the included hours. 

Roadside Assistance

$18/Day

Pet Fee

$50/trip

We are dog friendly. Any damages will be deducted from the deposit or claimed on insurance.

Windshield Protection

$50/trip

Customer will not be responsible for Repair or replacement of windshield due to rock chips or cracks.

Mileage Block

$350/Block

Block of 1000 miles. Must be purchased in advance. We do not refund for un-used mileage.

Kitchen Kit

$95/trip

Includes: Pots, Pans, Colander, Cooking utensils, knives, cutlery, dinnerware, coffee mugs, beverage cups, measuring cup, cutting board, coffee maker, cleaning supplies

Bike Rack

$25/trip

Hitch mounted bike rack with lock. Holds 4 bikes.  **MOTORHOME RENTALS ONLY**

Electronic Brake Control

$60/trip

REQUIRED - Travel trailer rental only If your vehicle is not equipped with an electric brake control, you will need to rent this unit.

Cargo Carrier

$50/trip

Hitch mounted cargo rack w/6" sides

Airport Pick-up and Drop off

$100/each way

Pick up at Lambert Airport, bring you to Byerly RV to pick up your rental and return you to the airport when you return from your vacation

SPECIAL EVENTS ONLY

Exhaust Stack

$50/trip

Generator attachment that moves exhaust fumes up and above the top of the motorhome.

Purina Farms delivery

$300

Delivery / Set-Up / Pick-Up

Purina Farms Relocate

$200/move

Move unit to another site after original delivery. While on-site for another delivery.

Purina Farms – Service Call

$100/ea

Return trip to Purina for any reason that is not due to equipment failure. ie: locked out, clogged toilet, drain tanks

Sparta delivery

$400

Delivery / Set-Up / Pick-Up
---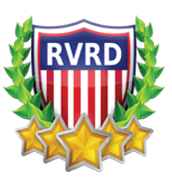 USA 5-Star is the highest quality standard in both product and service within the RV rental industry. The 5-Star RV rating exists to inform the consumer of the quality of the RV rental and, also, as a means to more accurately compare RVs. For a business to become a USA 5-Star dealer, they must maintain a customer satisfaction index of 95% or more.
Selecting a quality RV rental company will determine the type of experience and memories you will have. Just like the hotel industry, there are both Motel 6 and Marriott options. While National RV rental companies focus on the price conscious, one-time international customer; USA 5 Star members focus on the customer that wants a quality experience for the best value. Feeling confident in selecting the RV rental company will play a big part of your overall experience.
That is where the USA 5 Star RV Rental Network comes in. USA 5 Star RV Rental Network is a network of independent owner operated dealers committed to provide the best in customer service and RV rentals in the country. Members of the network are scrutinized and determined if they represent the best in their market for RV rentals. If they qualify, they are invited to participate as a member of the Network. As a member, they are then reviewed on an annual basis by fellow members to make sure they are meeting the USA 5 Star standard.