What we RENT

Class A motorhomes (27' & 32' coach style front end)
Class C motorhomes (22', 28' & 31', 36' (van chassis style front ends)
Travel Trailers (15', 20', 24', 26', 27' & 28')
All of our rental floor plans are available to view online at www.byerlyrv.com

DEPOSIT

All reservations require a $500 security deposit. (secured with a credit card)
The deposit is held on account, separate from the rental fees but is refundable at the end of the rental, provided the unit comes back in the same condition it left in, there is no damage and no additional mileage.

CANCELLATION POLICY

*YOU CAN PURCHASE THE "CANCELLATION PROTECTION" OPTION FOR A 1 TIME FEE OF $89/RENTAL

30 days prior: Full refund of deposit.
15-30 days prior: $350 
No Show - 14 days prior: $500

WEEKLY RENTAL

8 days, 7 nights
For example: Pick up Friday 1:30 - 4:30 p.m. and drop off the following Friday at 10:00 a.m.
Any day of the week Monday through Friday is available for pick up.
*We do not schedule pick-ups or drop offs on Saturday, Sunday or Holidays.

MINIMUMS

Motorhomes:
In Season          May 1 – September 30          Seven (7) day minimum 
Off Season        October 1 – April 30               Four (4) day minimum

Travel Trailers:
Year Round        Four (4) day minimum

A four (4) day rental is considered a "weekend". Scheduling would be as follows:
Pick up Thursday afternoon (1:30 – 4:30 p.m.) and return on Monday by 10:00 a.m.
Pick up Friday afternoon (1:30 – 4:30 p.m.) and return Tuesday by 10:00 a.m. or
Pick up Monday afternoon (1:30 – 4:30 p.m.) and return Friday by 10:00 a.m.

Do we rent longer than a week?

Yes.
We prorate the weekly rate for the amount of days you're looking for.
There are discounts for longer rentals (17 days or more).

PICK-UP AND DROP OFF


Pick up: Mon – Fri, 1:30 p.m. - 4:30 p.m. (Scheduled Appointments)

Return: 10:00 a.m.   (We need the time to make sure each unit is prepped and cleaned for the next customer)

*The pick-up and drop off days are not billed as two separate days but as one day

INCLUDED MILEAGE

Motorhome: 150 free miles per day.
Travel Trailers: No mileage involved

ADDITIONAL MILEAGE

Additional mileage is $0.45 per mile.
*YOU MAY PURCHASE THE "MILEAGE BLOCK" OPTION.  $350/1000 MILES

INSURANCE

Motorhome: Insure the vehicle with your auto insurance, if a rented motorhome is covered under your policy.
Not Covered: Purchase Collision Damage Waiver at $24.95 - $42.95/day. (offered by Byerly RV Rentals) There will be an additional $500 deposit required upon pick up to match the $1000 deductible required for the Collision Damage Waiver.

Travel Trailers: Comprehensive and collision insurance is included with a $500 deductible. The renter must provide liability insurance since the trailer is being pulled by their vehicle.

ADDITIONAL CHARGES

Prep Fee $149 (One-time fee ON ALL RENTAL CONTRACTS)
Sales tax is charged on the rental rate, additional mileage and additional rental items.
Overage in mileage charges will apply if you have gone over your included mileage or purchased mileage.
Collision Damage Waiver must be purchased if your auto insurance does not extend to a rental motorhome.
There is a non-refundable $50 pet fee for those who bring their dogs.
Provided you return the rental unit in the condition it left in, there are no additional charges.

INCLUDED with the rental

Propane:         Included with motorhome and travel trailer rentals.
Generator:      We include 6 hours usage for each day of rental, there is a charge of $3/hr. thereafter.
Mileage:          We include 150 miles for each day of rental, there is a charge of $0.45/mile thereafter.
                       Or you may purchase the Mileage Block at $350/1000 miles


What appliances come in motorhomes and travel trailers?

Refrigerator
Freezer
3-burner stove 
Oven
Microwave
A/C
Furnace
Hot water heater

TOWING REQUIREMENTS for travel trailers

Hitch rated at 6,500 lbs or higher (Subject to change with various models)
Hitch rated at 4,500 lbs for the R-Pod Travel Trailer (Subject to change with various models)
Electronic Brake Controller. (If you do not have a brake controller you can rent one from us for $60)
7-way, round plug with wired battery charge line on your vehicle.


TOWING BEHIND MOTORHOMES

NO -  We do not allow towing behind any rental units.

PARKING at our location during your travels

NO - We do not have parking available at our location for overnight parking.
---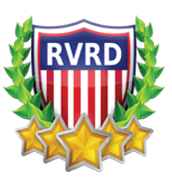 USA 5-Star is the highest quality standard in both product and service within the RV rental industry. The 5-Star RV rating exists to inform the consumer of the quality of the RV rental and, also, as a means to more accurately compare RVs. For a business to become a USA 5-Star dealer, they must maintain a customer satisfaction index of 95% or more.
Selecting a quality RV rental company will determine the type of experience and memories you will have. Just like the hotel industry, there are both Motel 6 and Marriott options. While National RV rental companies focus on the price conscious, one-time international customer; USA 5 Star members focus on the customer that wants a quality experience for the best value. Feeling confident in selecting the RV rental company will play a big part of your overall experience.
That is where the USA 5 Star RV Rental Network comes in. USA 5 Star RV Rental Network is a network of independent owner operated dealers committed to provide the best in customer service and RV rentals in the country. Members of the network are scrutinized and determined if they represent the best in their market for RV rentals. If they qualify, they are invited to participate as a member of the Network. As a member, they are then reviewed on an annual basis by fellow members to make sure they are meeting the USA 5 Star standard.