On August 21, 2020 St. Louis County mandated that all customers on business premises are now required to wear masks or face shields.  The link below has additional information from the County about their mandate.
https://stlcorona.com/dr-pages-messages/public-health-orders/order-requiring-members-of-the-public-and-employees-to-wear-face-coverings/ 
Byerly RV values the safety of our customers and our team.  We have disposable masks available for all customers who may have forgotten theirs.  So don't worry if you stop by and realize you left your mask at home.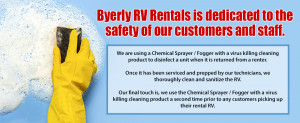 – Additionally, we are ready to serve our customers in other needs that do not require you to enter our building:
o Our Parts store is available online
o We can arrange for non-contact drop-off and pick up in Service
o We offer virtual tours on most of our vehicles
o We can also schedule a Personal Viewing Experience with one of our Outfitters
o You can contact us via email, phone, or by text using the text icon on our webpage
– All rental and service vehicles are fogged with disinfectant before maintenance is performed and after it is completed, to keep our team and our customers safe, this is a process we have continually performed throughout the pandemic.
– Our team required to wear face masks and respect proper social distancing. Additionally, our teammates are encouraged to stay home if they feel sick and are asked to complete a daily temperature check.
– Signage is posted throughout the building regarding proper hygiene and hand washing, Plexiglas is installed at all counters, and additional signage on our entry doors notes the St. Louis County requirement for wearing masks on the premises.
– Since the beginning of the pandemic our departments have designed new cleaning protocols to make sure high touch surfaces and counters are cleaned regularly throughout the day.
– For Our Team Members:
• Encouraging them to closely monitor their health and well-being.
• Asking employees to stay home if they or someone in their household are sick.
• We have canceled events with large gatherings and any employee travel for conferences.
In addition to normal communication, keep tabs on our Facebook and YouTube pages for frequent informational videos and other RV related information. Also keep up with our blog updates.  Visit our blog here for a ton of great information and Byerly RV History.

Byerly RV, in Eureka, Missouri is the Priority dealer for the St. Louis, MO market. Byerly is a family owned company which was founded in 1948. Byerly RV is St. Louis's only Top 50 rated RV dealer for the past 3 years!  Byerly is truly the Center of the RV World.
295 E 5th St
Eureka, MO
636-938-2000