Looking for a personalized RV viewing experience but can't make it out to Byerly RV in Eureka, MO?  We've added a new feature to our website.  On each of our RVs (travel trailers, 5th Wheels, Class A motorhomes, Class C motorhomes, etc) you'll see a button that says "Personalized Viewing Experience".  By completing the form, one of our trained RV Outfitters can send you a personalized RV viewing experience for that vehicle.
If you've spent time browsing through the virtual tours but want to see one in person, or maybe a video of an actual in stock vehicle, just contact us. Our team will be happy to assist in getting you the information you need and a video of the vehicle during our regular business hours. We are better connected than we've ever been, so now is the time to schedule a RV shopping appointment. We have the widest selection of inventory in St. Louis, Missouri. And our team of RV Outfitters at Byerly RV are ready to assist you.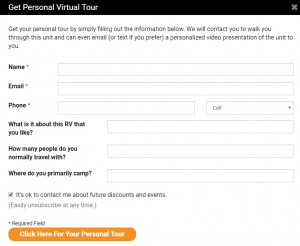 So give us a call, text, email or just check out our content on the website, Facebook or YouTube.
STAY CONNECTED FOR MORE RV TIPS, TRICKS, AND HELPFUL INFORMATION:
Byerly RV Website
Facebook
Instagram
Twitter
Byerly RV, in Eureka, Missouri is the Priority RV Network dealer for the St. Louis, MO market. Byerly is a family owned company which was founded in 1948. Byerly RV is St. Louis's only Top 50 rated RV dealer for the past 3 years!  Byerly is truly the Center of the RV World.
CONTACT US:
636-938-2000
800-878-3325
295 East 5th St
Eureka MO, 63025