Byerly RV is open for business in Eureka, MO and you can schedule a RV Shopping Appointment through any of the great ways to connect with us. If you've been dreaming of escape and the adventure that the RV lifestyle can bring, we're here to help.  In addition to all of the great virtual tours available for many RV's in stock. If you would like to schedule a appointment to meet with one of our Outfitters you can contact us through:
– the text app at the bottom our website
– via email at Sales@byerlyrv.com
– call us at 636-938-2000
– the "Contact Us" page of our website
– via Facebook
Our team will respond to you shortly during business hours and happily schedule a time to connect with you.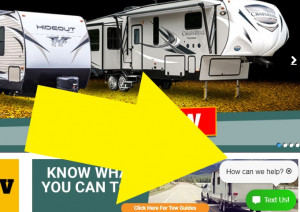 If you've spent time browsing through the virtual tours but want to see one on the lot in person, or maybe a video of an actual in stock vehicle, contact us.  Our team will be happy to assist in getting you the information you need and a video of the vehicle during our regular business hours.  We are better connected than we've ever been, so now is the time to schedule a RV shopping appointment. We have the widest selection of inventory in St. Louis, Missouri.  And our team of RV Outfitters at Byerly RV are ready to assist you.
So give us a call, text, email or just check out our content on the website, Facebook or YouTube.

Byerly RV, in Eureka, Missouri is the Priority dealer for the St. Louis, MO market. Byerly is a family owned company which was founded in 1948. Byerly RV is St. Louis's only Top 50 rated RV dealer for the past 3 years!  Byerly is truly the Center of the RV World.
295 E 5th St
Eureka, MO
636-938-2000