For over two decades Byerly RV in Eureka, MO has been proud to carry the Keystone Hideout travel trailer brand.  We feel that the Hideout travel trailer product has always represented some of the best value to RV buyers in the RV marketplace.  Of course back in the old days, when we first became a Hideout travel trailer dealer, the product had a different name.  And our first batch of product didn't come from the manufacturer directly… no, the fact is that we traded all of our Fleetwood trailers to a dealer for all of his Hornet travel trailers.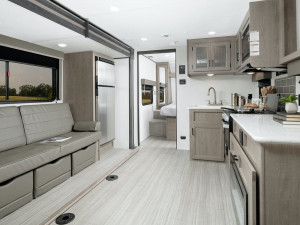 We thought the Hornet product represented a better value for our customers.  And we were correct.  Hornet may have eventually changed their name to Hideout by Hornet, and then to just Hideout.  But the same people stayed with the brand, helping to build a quality product and a quality brand that thousands of our customers have enjoyed in St. Louis over two decades.  Meanwhile those Fleetwood trailers discontinued production when the original Fleetwood went bankrupt.  The names were sold off to other companies, but they just don't build them like they used to, huh?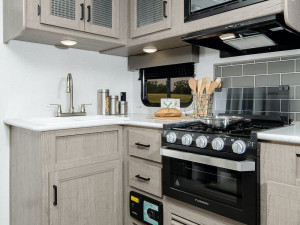 But Hideout travel trailers not only grew with Byerly RV, they grew with the modern RV world. From easy to tow, single-axle travel trailer models clocking in just over 21′ to bunkhouse floorplans that are roomy enough for the entire family (and a few neighbor kids), a Keystone Hideout travel trailer makes it incredibly easy to become a camper. With its sharp, automotive-inspired exterior design and light and airy interiors, the Hideout travel trailer sets the stage for carefree camping. Hideout travel trailer owners will be delighted by unexpected features like electric stabilizer jacks, hidden pantries, central vacuum, 4G LTE/WiFi prep that works with all major cellular providers.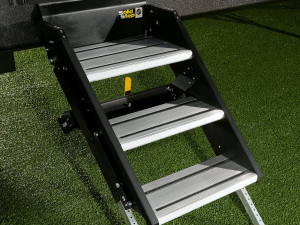 Year after year, Keystone RV's experienced team delivers the Built for the Long Haul quality you expect and exclusive innovations you won't find anywhere else. Just look at the Hideout travel trailers at Byerly RV in Eureka, MO. With custom-engineered frames for every floorplan, Keystone RV eliminates the compromises other manufacturers are forced to make as they try to adapt new floorplan designs to work with stock frames. Keystone's Tru-Fit frame design optimizes each slide's position to reduce stress on the structure and motor, resulting in a more durable build and consistent performance. A flexible rubber seal is added to both the slide-out structure and the side wall, doubling the RV's protection against the elements. Additionally, Keystone's exclusive color-coded 12V wiring is different from conventional RV wiring and why it's a better for both owners and service technicians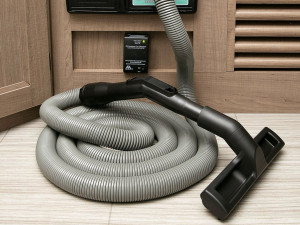 The Keystone Hideout travel trailer is what you need to do camping RIGHT! These units feature a combination of luxury amenities, quality features, and camping conveniences all at an affordable price point. There are several options to choose from, and they all come in a wide range of floorplan layouts and sizes to accommodate any family. In addition to Hideout's renowned travel trailers, they also offer the best value in half-ton towable 5th wheels. Keystone Hideout fifth wheels offer the features you want in mid-size products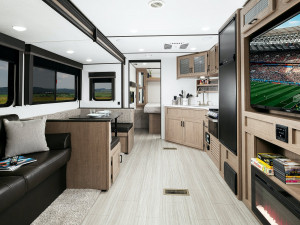 STAY CONNECTED FOR MORE RV TIPS, TRICKS, AND HELPFUL INFORMATION:
Byerly RV Website
Facebook
Instagram
Twitter
Byerly RV, in Eureka, Missouri is the Priority RV Network dealer for the St. Louis, MO market. Byerly is a family owned company which was founded in 1948. Byerly RV is St. Louis's only Top 50 rated RV dealer for the past 3 years!  Byerly is truly the Center of the RV World.
CONTACT US:
636-938-2000
800-878-3325
295 East 5th St
Eureka MO, 63025