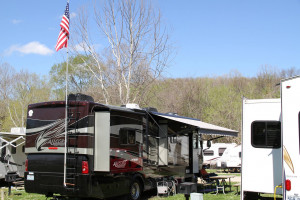 At Byerly RV in Eureka, MO, we get lots of inquiries in our RV Parts department about how to make RV grilling easy.  Our customers are curious about how to make BBQ Grills, such as the Coleman RoadTrip, work with an RV manufacturer's factory installed quick connect fitting. The problem that consumers often face is that those types of high pressure BBQ grills use a 1 lb cylinder or a direct connection to a 20 or 30 lb LP Tank.
High-pressure grills can connect directly to a propane bottle which does not pass through an external regulator which is built onto most RV systems.  Most high-pressure appliances will have their own regulator built in. Meanwhile low-pressure gas grills get connected after the LP regulator which reduces the gas flow. When choosing a BBQ Grill to use with your RV Quick Connect you will want to make sure to use a Low-Pressure Grill.
Byerly RV stocks a couple different grills that are low pressure and ideal for your next RV grilling experience, like the Stainless Steel Faulkner Grill and Aussie BBQ Grill, which will both work with the quick connect propane outlet on an RV.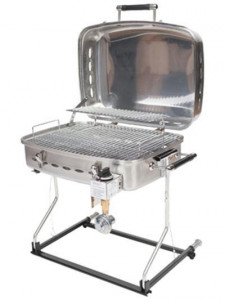 However, if you still wish to use a high-pressure grill on an RV system, there are a few accessories that you can buy to make your high-pressure grill work with the propane on board. The only caveat is that these accessories tie into the LP System before the factory installed LP regulator. You can use a Travel Trailer or 5th Wheel Extend-A-Flow Kit that connects to the 20 or 30 lb cylinder to allow connection of an additional propane appliance such as a tabletop grill, camp stove or lantern. If you have a Motorhome you can use an Extend a Flow Kit that mounts in-line between the supply and regulator to allow connection to an additional propane appliance.
Consumers may hear of other ways to make your high-pressure grill work through their low pressure quick connect, but some require modification to the grill thus resulting in the grill no longer being able to accept 1 lb cylinders as a propane source. A better option may be using one of the Extend-A-Flow Kits, so that the grill could be used in both applications.
Make your next RV grilling experience the best it can be.  For more information visit Byerly RV in Eureka, Missouri – St. Louis's only RV Business Top 50 North American dealer for 2017 & 2018 – at I-44 and 109.  Call us at 636-938-2000 or check us out on Facebook or Instagram.