Due to the St. Louis County Stay In Place orders, Byerly RV will be operating in a limited capacity with limited hours starting Monday March 23 through April 26.  During this time we are adjusting our hours of business to 10am – 6pm Monday through Friday and 9am – 5pm Saturday to best accommodate any customer needs.
The federal and state guidance has been that service and parts facilities are deemed "essential". We know that many of you may be using you RVs for many reasons, whether it's because you live in one, are staying a short time in one, or are keeping family nearby in one, and we will have a limited staff in both parts and service here to help you with all of your questions and concerns.
Our RV Parts Department is equipped to offer curbside pickup, online shopping, or just here to answer any questions you have.
parts@byerlyrv.com
636-938-2010
Or text us through the website!
Additionally you can drop-off Service vehicles without having to come inside the building, as well as arrange pick up of your completed vehicle.  Have an RV Service question, contact us via email, phone, or text (through the website) and we can help.
service@byerlyrv.com
636-938-2020
Or text us through the website!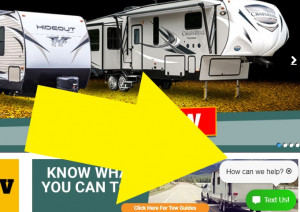 In addition we will have representatives from our RV Rental Department here to assist if you have an emergency temporary housing need.  We have many other essential businesses that are looking for temporary offices or staffing quarters during this time and have reached out for help in getting accommodations since RV Rental offers a great option.
rentals@byerlyrv.com
636-938-2018
Or text us through the website!
While we will not have a fully staffed RV sales floor, we will have representatives on hand to answer your questions via phone, email, text, or even virtual visit if you would like to contact us during business hours.
636-938-2000
sales@byerlyrv.com
Or text us through the website!

In addition to normal communication, keep tabs on our Facebook and YouTube pages for frequent informational videos and other RV related information. Also keep up with our blog updates.  Visit our blog here for a ton of great information and Byerly RV History.
We know that your RV may be you permanent or temporary home, and we want to assist you as best we can even during this unique time. In addition to limiting our staff during operating hours, we are also watching the CDC updates closely, as well as recommendations made by state and local authorities, and adhering to their recommendations on steps to prevent the spread of the COVID-19 virus.
We have asked our employees to follow the CDC guidelines to protect themselves, their team members and have taken numerous steps to ensure we can remain open and continue to serve you:
In our Store:
• We clean all high touch areas such as countertops, checkout areas, credit card machines, door handles, waiting areas, copiers, desktops, keyboards and telephones multiple times throughout the day.
• Sanitizing restrooms with disinfectant and restocking with supplies including soap and paper towels.
• Wiping down all high touch areas of RV units in our shops with disinfectants before starting work and before delivering to customers.
• Advising our employees to suspend handshakes and physical contact with fellow employees and customers.
• Partnering with our suppliers to replenish high-demand preparedness products.
• Our retail store is open, but we will operate with limited staff as much as we can to help keep our environment and our team healthy and safe. We will continue to evaluate conditions, but our goal is to remain open in the capacity that we can, so that we can provide you the items that you need. Please follow us on our website for any updates or changes.
For Our Team Members:
• Encouraging them to closely monitor their health and well-being.
• Asking employees to stay home if they or someone in their household are sick.
• We have canceled events with large gatherings and any employee travel for conferences.
Byerly RV, in Eureka, Missouri is the Priority dealer for the St. Louis, MO market. Byerly is a family owned company which was founded in 1948. Byerly RV is St. Louis's only Top 50 rated RV dealer for the past 3 years!  Byerly is truly the Center of the RV World.
295 E 5th St
Eureka, MO
636-938-2000