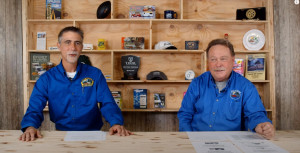 Last week Dave and Rick from Byerly RV in Eureka, MO went live to help customers get ready for RV Season.  Watch our full broadcast below with questions from our customers and information on How to Measure Your Awning for Replacement Fabric, How to Measure for a Slide Topper and Replacement Slide Topper Fabric, and more.
The RV experts at Byerly RV in St. Louis, Missouri answered questions about RVing, RV Sales, RV Service and more.  The main topic was helping customers get ready for RV season. Dave and Rick answered customer questions on a variety of topics involving general maintenance and spring prep. Also, just like our monthly Byerly RV University seminars, we have created a series of RV instructional videos to answer the most common we have many more RV instructional videos available on our YouTube Page.  
Get ready for RV season and check out our listing of basic RV maintenance for your RV that your manufacturer recommends:
Keystone Recommended RV Maintenance
Forest River Recommended RV Maintenance
Tiffin Recommended RV Maintenance
Thor Motor Coach Recommended RV Maintenance
Coachmen Recommended RV Maintenance
Winnebago Recommended RV Maintenance
Byerly RV in St. Louis, MO is having an online RV Parts sale during the entire month of May.  Visit our Online RV Parts store and enter the code MAY20 at checkout to receive 20% off your entire order.
HAVE ADDITIONAL QUESTIONS ABOUT HOW TO GET READY FOR RV SEASON?  CONTACT THE EXPERTS.
Our RV Parts Department:
parts@byerlyrv.com
636-938-2010
Or text us through the website!
Have an RV Service question, contact us via email, phone, or text (through the website) and we can help.  Now you can drop-off Service vehicles without having to come inside the building, as well as arrange to pick up your completed vehicle.
service@byerlyrv.com
636-938-2020
Or text us through the website!
STAY CONNECTED FOR MORE RV TIPS, TRICKS, AND HELPFUL INFORMATION:
Byerly RV Website
Facebook
Instagram
Twitter
Byerly RV, in Eureka, Missouri is the Priority RV Network dealer for the St. Louis, MO market. Byerly is a family owned company which was founded in 1948. Byerly RV is St. Louis's only Top 50 rated RV dealer for the past 3 years!  Byerly is truly the Center of the RV World.
CONTACT US:
636-938-2000
800-878-3325
295 East 5th St
Eureka MO, 63025