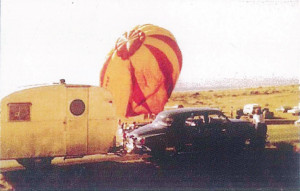 From the desk of Russ Patton, President & Owner of Byerly RV
The old 1954 Byerly trailer had been a good nanny to the Warren children and one would think it deserved retirement. But another generation arrived and one could almost hear the trailer anxiously whisper, "I have more stories to tell, things to show you, and miles to go before I sleep."
This time the old Byerly would be escorted by a 1951 Studebaker. A three week adventure in which the intrepid travelers, Russ and Adrienne Patton, would encounter the heat of the southwestern desert and the cold blizzard of the northern plateau.
The Studebaker performed admirably. She huffed and puffed up the mountains, blowing off steam occasionally like a whale gasping for air. The old trailer compensated her efforts by helping to push her down the other side of the mountains.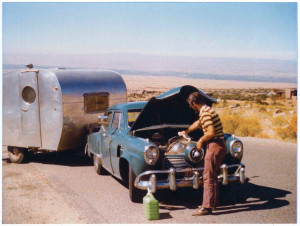 The old Byerly is really built, but it's heavy. Overheating was a problem. We drove through the desert with the windows open and the heater on! A Studebaker heater is like a small radiator located under the front seat. Adrienne sought relief in the slightly cooler back seat.
The brakes were another story. I'm sure the trailer brakes saved us a couple of times. We headed into a blizzard in Wyoming and Kansas. The mountain passes were closed behind us so we decided to drive on through the storm. The trailer breaks kept us on the road when many cars were sliding off.
But between the two extremes our journey was pleasant adventure. But the old trailer, built by Mr. Byerly, did finally retire and can be seen at Byerly RV's location in Eureka, Missouri. To read more about the history of the trailer and the numerous adventures of the Warren family pick up a copy of the whole story at Byerly RV.
Byerly RV, just 15 minutes west of I-270 on I-44 in Eureka. Byerly RV, the Center of the RV World and 3-Time RV Business Magazine Top 50 North American Dealer for 2017-2019. Come see the widest selection of Travel Trailers, 5th Wheels, and motorhomes in St. Louis.  Visit us at byerlyrv.com and on Facebook. 636-938-2000.