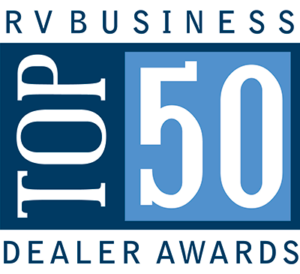 Byerly RV in Eureka, MO is proud to have been selected as one of North America's top RV dealers for 2019.  For 71 years Byerly RV has striven to provide the best experience for our customers across all parts of the RV business: RV Sales, RV Parts & Accessories, RV Service, RV Rentals.
As reported by RV Business Magazine:
The 2019 roster of RVBusiness Top 50 Dealer Award recipients has been released by RVBusiness, the Elkhart, Ind.-based trade journal that has partnered for nine years now with BJ Thompson Associates to promote the unique, bar-raising, industry-wide Top 50 program.
These RV dealer honorees will be publicly recognized on stage Nov. 13 at an awards reception held during the Recreation Vehicle Dealers Association International Convention/Expo, the industry's leading RV dealer event co-hosted Nov. 11-15 by the U.S. Recreation Vehicle Dealers Association (RVDA) and RVDA of Canada at Caesars Palace Las Vegas Hotel & Casino.
"Just when you thought you'd seen it all, that the dealer applicants had pretty much played out their hands with regard to innovative, thought-provoking approaches to RV retailing, this year's applicants took things to a new level in terms of creative business practices, new age marketing, charitable outreach, tech training and bar-raising approaches to consumer care," said RVB Publisher Sherman Goldenberg.
Public relations executive BJ Thompson said the selection process was exceptionally intense this year as an esteemed panel of industry experts sequestered in a two-day, closed door session in early September at Elkhart's RV/MH Hall of Fame pored through scores of applications from U.S. and Canadian retailers nominated by recreational vehicle manufacturers.
"This year's panel of judges were about as intently engaged as we've ever seen in completing their evaluations and final selections," added Thompson. "There were some dynamic debates among the judges regarding the dealer finalists, and understandably so, when you consider the increased quality of the applications reflecting a new age of retail professionalism. We saw evidence of dealers not resting on their laurels of past performance but placing additional emphasis on service technician training and pressing for even higher levels of customer satisfaction.
"The judges clearly had difficulty getting the list down to just 50 selections and, unfortunately, some previous recipients didn't make it in," he noted. "Having said that, we do have a list of outstanding Top 50 dealers for 2019."
Byerly RV in Eureka, MO is honored once again to have been selected by the industry judges as a Top 50 RV Dealer in North America.  Come visit Byerly RV in St. Louis at Highway 44 and 109, or check us out on Facebook and Instagram.