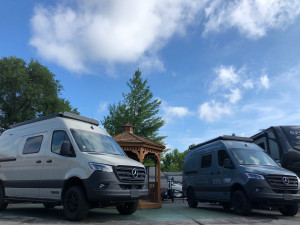 There is nothing like the Winnebago Revel.  Not a single RV in the USA compares with Winnebago's ultimate class B diesel 4×4 on the new Mercedes-Benz Sprinter chassis. The 3L turbo diesel engine with 325 lbs/ft. of torque allow you to go where no RV has gone before, the outdoor enthusiast's dream!
Byerly RV is excited to bring the most in demand RV in America to our lot in Eureka, Missouri.  We've been out of stock for months, but the Revel is worth the trip.  Few Class B motorhomes are designed specifically for active outdoor enthusiasts.  However the all-new Revel takes a no-nonsense approach to adventure, with a straightforward design and function-driven features you won't want to travel without; a gear garage with a power lift bed, an all-in-one wet bath, a dinette that converts into additional sleeping space, Smart Storage for all your gear both big and small, plus so more. The side and rear screen door allow fresh air flow and the electric patio awning provides an outdoor living space where you can visit with friends and family.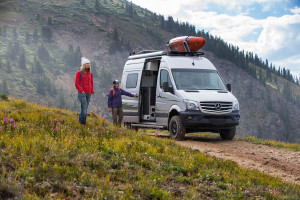 Inside, the Revel's unique features start with a floorplan designed around a 140-cu. ft. gear garage with a power lift bed. A full galley, including a 2.5-cu. ft. compressor refrigerator, makes meal prep a breeze, while the all-in-one wet bath and gear closet boasts a cassette-style toilet that eliminates the need for a separate black water holding tank. Add a standard 200-watt solar power system, diesel-powered heating, a dinette with a pull-up table that converts to additional sleeping space, and many more innovative features and the result is the Revel: quite simply the most off-road capable RV Winnebago has ever built.
Come see the Winnebago Revel, and browse our selection of the best selling motorhomes in St. Louis, at Byerly RV in Eureka, MO at I-44 and 109.  Call us at 636-938-2000 or visit us on Facebook or Instagram.