Have you asked yourself "what RV can I tow"?  Have you been dreaming of the RV lifestyle but worried that you may not be able to tow your ideal vehicle?  Check out the tow guide on Byerly RV's website.  Just like our experts in Eureka, MO, the tow guide can help you narrow down your travel trailer or 5th wheel search to the vehicles that fit you perfectly.

Everyone dreams of the perfect RV.  But really it's finding the right match for your needs.  If there was just one perfect RV for everyone, what fun would that be?  There are tons of different sizes, floorplans, weights, builds, and designs across many different brands.  It can be a lot to look at.  In addition to that, you've asked yourself, "What RV can I tow?", you still need to find the perfect RV that fits your tow vehicle.  Whether that is a travel trailer or a fifth wheel. That's where a tow guide can help.
Input you general vehicle information.  But you will still need to know some important things about your vehicle.  What is the axle ratio?  What engine do I have?  Do I have a short or long bed?  Is this a crew or super cab?  Not all trucks in the same model are the same.  There can be drastic differences in towing capacities between the same model depending on all of those factors.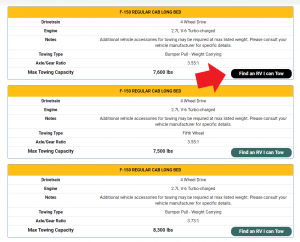 When you click on the "Click here for tow guide" you will get linked to the tow guide which is pulled from a 3rd party database.  When you input your vehicle information, you will see all of the different options of engines, axle ratios, etc.  Once you find your vehicle, you can click the box that says "see what I can tow" and you will be shown all available inventory at Byerly RV in St. Louis, Missouri, that will be within the capacities of the vehicle specifications you selected.
Now it is important to note that you always need to give yourself some space between the weight of the RV and the total towing capacity of your vehicle.  That's why it's important to consult your manual to make sure you have your specs correct, but that's also why we're here to help guide you through the process.  Sometimes RV manufactures have changes in weights during model years.  We're happy to help you answer the question, "What RV can I tow?".
Contact our team via:
– the text app at the bottom our website
– via email at Sales@byerlyrv.com
– call us at 636-938-2000
– the "Contact Us" page of our website
– via Facebook
Byerly RV, in Eureka, Missouri is the Priority dealer for the St. Louis, MO market. Byerly is a family owned company which was founded in 1948. Byerly RV is St. Louis's only Top 50 rated RV dealer for the past 3 years!  Byerly RV in St. Louis, MO is truly the Center of the RV World.
295 E 5th St
Eureka, MO
636-938-2000