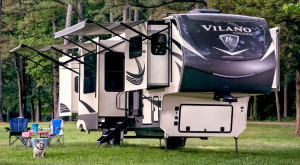 Vanleigh 5th Wheels have been the newest name in luxury for the 5th wheel market for the past few years and Byerly RV in Eureka, MO is proud to partner with Vanleigh 5th Wheels, just as we have partnered for so many years with their parent company, Tiffin Motorhomes. The Vanleigh 5th Wheel brand may be young within the luxury 5th Wheel market, but the company's dedication to serving the customer first above all else has been cultivated and passed down through generations of the Tiffin family.  See the full lineup of Vanleigh 5th Wheels; including Beacon, Vilano, and Pinecrest, at Byerly RV in Saint Louis, Missouri.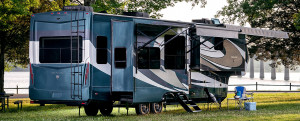 The top of the line for Vanleigh 5th Wheels is Beacon. Have you been dreaming about what it would be like to vacation in ultra comfort and relaxation? Stop dreaming and start living with this Beacon fifth wheel! With two sets of opposing slides, you won't be able to deny that this unit is spacious, and the helpful kitchen amenities, like the island with lighting overhead, the residential refrigerator, and the large pantry, will ensure that dinner preparations run smoothly each night.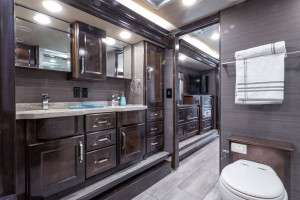 Whether you are simply heading out for the weekend or you call the road your home, the Beacon fifth wheel from Vanleigh RV has everything you could possibly want or need! You may find yourself staying inside all weekend long because of the fabulous interior amenities, like a theater sofa and master bedroom. A Spyder Controls multiplex system with a 7″ color touchscreen allows you to take charge of various functioning equipment like tank levels, temperatures, and lighting. You will also find that the 40″ fireplace delivers a home-like feel to the living area, and the king cool-gel memory-foam mattress is so relaxing and rejuvenating after a long day of excursions and expeditions.
Vilano was the first product by Vanleigh 5th Wheels. One of the abundant advantages to Vilano is getting everything a luxury fifth-wheel offers without the price tag. Vilano presents all the elements one might need for an active weekend away.  Do you enjoy high-class furnishings and accommodating amenities wrapped up in a delightfully styled package? You will find all of that and more in each of the Vilano fifth wheels! No matter what your adventure plans entail, there is a Vilano floorplan suited to meet all of your needs.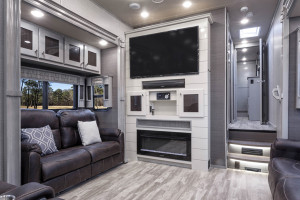 The Pinecrest from Vanleigh 5th Wheels is the newest edition to the lineup.  Pinecrest is the premiere luxury mid-profile fifth wheel in the RV market.  Pinecrest brings the Tiffin luxury of Vanleigh 5th Wheels to a lighter weight and lighter price.  Enhancing your lifestyle and meeting your budget, the Pinecrest delivers gorgeous floor plans that have been decked out with residential features, like a kitchen island with overhead lighting, a 40″ fireplace, a residential refrigerator, and a hutch for your dishes. Not only that, but you will also find a master bedroom with loads of storage for your various luggage and travel essentials.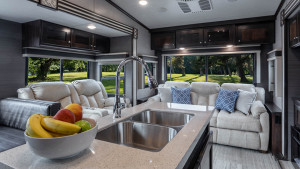 Each Vanleigh 5th Wheel is built with the full-timer in mind but doesn't require a full-time commitment from buyers. Maybe you would rather not subject yourself to the rigors of life on the road just yet. Maybe you'd prefer to have a home base to come back to, a place to refresh, recharge, and refuel. If that sounds like what you want, we're still going to stand behind you. Because even if you're not ready to full-time, you'll rest easy knowing that your Vanleigh 5th Wheel is more than capable of suiting that lifestyle. Once you're ready, you can just hop on in and go.  Wherever you choose to take your Vanleigh 5th Wheel, you'll be equipped with a full slate of luxury amenities that will make the transition from living in the home to living in your camper seem effortless: extra-large windows, full-size refrigerators, spacious wardrobes, and king-sized beds.
See the Beacon, Vilano, and Pinecrest from Vanleigh 5th Wheels at Byerly RV in Eureka, MO.
STAY CONNECTED FOR MORE RV TIPS, TRICKS, AND HELPFUL INFORMATION:
Byerly RV Website
Facebook
Instagram
Twitter
Byerly RV, in Eureka, Missouri is the Priority RV Network dealer for the St. Louis, MO market. Byerly is a family owned company which was founded in 1948. Byerly RV is St. Louis's only Top 50 rated RV dealer for the past 3 years!  Byerly is truly the Center of the RV World.
CONTACT US:
636-938-2000
800-878-3325
295 East 5th St
Eureka MO, 63025