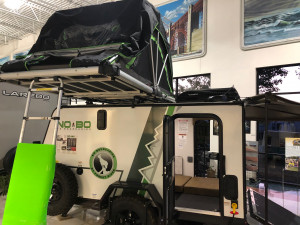 With deer season approaching, you may be looking for the ultimate RV Deer Camp.   While there are many options in the RV world for portable sleeping and heat, there are few options that are loaded as perfectly as the Forest River No Boundaries 10.6 Travel Trailer.  With a tent perched above the roof, you have room in the garage to store your ATV or just your gear.  The bat wing covers almost the whole outside of the camper for shade, cover, and comfort.  Plus on the passenger's side you have a pull out camp stove, 12V fridge, food pantry, and a hidden safe lock box.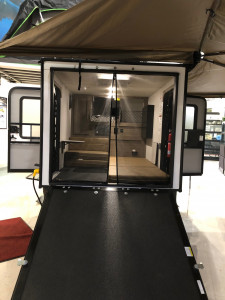 If you are looking to go off road the Forest River No Boundaries products feature leading ground clearance along with larger diameter off-road tires and a nimble suspension system which makes it easy for you to go a little further to that RV Deer Camp off the beaten path. At under 2,000 pounds the 10.6 No Boundaries travel trailer can almost get towed by anything to anywhere.  Compact and lightweight, the NoBo 10.6 toy hauler could be the ultimate RV Deer Camp.
Perhaps you're looking for more space?  Well the Forest River NoBo products offer lightweight fiberglass trailers with off-road capabilities and roof racks to set up at your RV Deer Camp. There's a 16′ single axle like the No Boundaries 16.8, and even a 19′ double axle lightweight with a Murphy Bed and more space than you can imagine, plus an extended kitchen and dining counter with stools – the NoBo 19.6.
Check out the ultimate RV Deer Camp, the No Boundaries 10.6 at Byerly RV in St. Louis MO.  Plus see other floorplans available from this truly unique RV manufacturer like the 16.8 and 19.6.  Call us at 636-938-2000, visit us on Facebook, or Instagram.