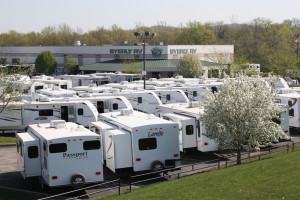 Is the perfect used RV out there for you?  Shop at Byerly RV in St. Louis, MO and find out!
The past few years have seen record new vehicle shipments in the RV Industry.  This means many RVers are trading in their current RVs to move up to a newer model. The result is an opportunity for buyers to find a nice pre-owned RV and enjoy the benefits of RVing for a fraction of the cost of a new model. They can find these deals at Byerly, which always has a good selection of pre-owned folding campers, travel trailers, 5th-wheels and motorhomes.
Looking for a vacation cabin?
What about a hunting lodge?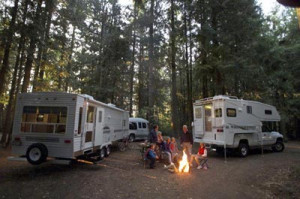 Hunters, nature buffs, families and escapists have discovered pre-owned RVs work great as weekend cabins. Even though they don't intend to tow them, they appreciate the comfort of the amenities they offer including bedding, heat, plumbing and a kitchen. And, with the addition of a portable generator, buyers can move up to the next level with air conditioning, TVs and more household amenities.
Used Motorhomes provide all of the amenities campers are looking for at a fraction of the price.  Generators, TVs, household appliances, etc.  Byerly RV is always adding fresh used RV inventory thanks to our well maintained RV rental fleet.
The castle of the single-site RV is the 5th-wheel. While they are designed for use with pickup trucks, you don't need to have a truck except for parking it. And, frequently, the dealer can spot it for you. The split-level accommodations provide more room and privacy. Creative campers even block off the area below the overhang for storage.
It's hard to imagine a more convenient and affordable vacation cabin than a good pre-owned RV. Of course, if you want to hit the road, Byerly in Eureka offers a score of ways to score with its selection of new and pre-owned RVs.
Check Byerly RV in Eureka, MO out at www.byerlyrv.com or call 636.938.2000.  Connect with us on Facebook and Instagram.