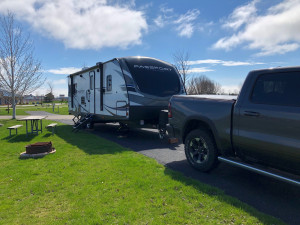 To Our Valued Customers:
Byerly RV Center considers our Customers and Employees to be like family and during these unprecedented times we are committed to ensuring a safe and healthy environment for everyone.
As state and local governments issue operating guidance to businesses, RVDA has issued a statement to the President and Vice President advising that it is important to ensure "that consumers have access to safe and well-functioning motorhomes and travel trailers used for travel and temporary housing. It is vital that RV repair, maintenance, and sales facilities be considered essential operations when federal, state, and local officials impose certain requirements due to the coronavirus outbreak.
We know that your RV is like your home and realize you depend on us to provide products and services that are needed to keep your RV functioning and safe. In these everchanging times, we want to be here for you and want to explain how we are prepared to do that.
The Center of Disease Control (CDC) is our baseline for planning and preparations. We are watching the CDC updates closely, as well as recommendations made by state and local authorities, and adhering to their recommendations on steps to prevent the spread of the COVID-19 virus.
We have asked our employees to follow the CDC guidelines to protect themselves, their team members and have taken numerous steps to ensure we can remain open and continue to serve you:
In our Store:
• We clean all high touch areas such as countertops, checkout areas, credit card machines, door handles, waiting areas, copiers, desktops, keyboards and telephones multiple times throughout the day.
• Sanitizing restrooms with disinfectant and restocking with supplies including soap and paper towels.
• Wiping down all high touch areas of RV units in our shops with disinfectants before starting work and before delivering to customers.
• Advising our employees to suspend handshakes and physical contact with fellow employees and customers.
• Partnering with our suppliers to replenish high-demand preparedness products.
• Our retail store is open, but we will operate with limited staff as much as we can to help keep our environment and our team healthy and safe. We will continue to evaluate conditions, but our goal is to remain open in the capacity that we can, so that we can provide you the items that you need. Please follow us on our website for any updates or changes. Byerlyrv.com
For Our Team Members:
• Encouraging them to closely monitor their health and well-being.
• Asking employees to stay home if they or someone in their household are sick.
• We have canceled events with large gatherings and any employee travel for conferences.
Byerly RV Center appreciates your loyalty and continued business during these times and our team is committed to continuing to service you in a healthy and high-quality manner. We feel confident in the steps we have taken will allow us to do this.
Thank you,
The Byerly RV Team