Have you heard about our Early Bird RV Expo? On January 12th-14th, and 16th  our prices will be BETTER THAN SHOW DEALS plus we will give you 3 months free storage with your purchase!  You will find amazing discounts on many of our motorhomes, fifth wheels, and travel trailers.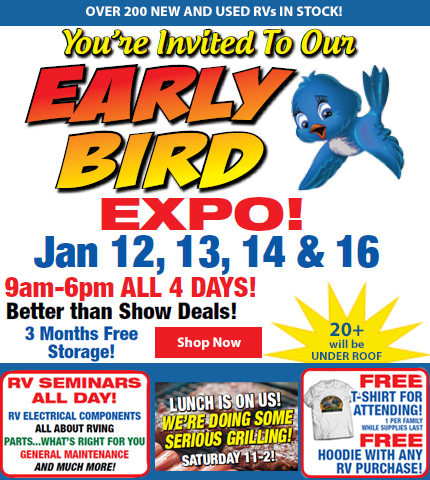 Each of these days, from 9am to 6pm, you can look around our lot and take a look inside the incredible RVs we have included in this sale. Plus, you can check out the low prices for them as well!
For example, you can find an A.C.E. Class A motorhome for only $89,768 marked down from $120,900! You'll get a great floorplan with two slides and a bunkhouse for an amazingly low price with payments of only $539 a month.
We will also be offering savings on many of our RV accessories. You can fully stock your RV for the New Year's camping season, and save some money while you are at it!
However, this RV Expo is much more than just an amazing sale! We will also be having RV Seminars all day long to help give our customers more information on how to take care of their RVs. Some of the seminar topics include:
Electrical Components
All About RVing
Parts…What's right for you
General Maintenance
And More!
So be sure to come on by our location on January 12th-14th, or 16th, 2017 to learn more about your RV and shop the New Year sale. You can even enjoy lunch on us every Saturday from 11am to 2pm, and get a new Byerly RV t-shirt for free just for attending.
Be sure to contact us to find out all about this amazing Expo and start the New Year off right in an RV of your dreams! We will have over 20 RVs under roof for you to see.