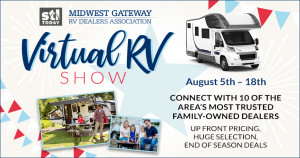 The Midwest Gateway RV Dealers Association is happy to bring you the Virtual RV Show from August 5-18, 2019.  This event features 10 of the St. Louis Area's most trusted family owned RV dealerships like Byerly RV in Eureka, MO.
Learn more about the dealerships that have helped tens of thousands of customers enjoy the RV lifestyle in St. Louis for generations at stlrv.com.  Byerly RV is proud to be a member of the St. Louis RV Dealers Association (Midwest Gateway RVDA), the Missouri RV Dealers Association, and the National RVDA.
The Virtual RV Show runs from August 5-18 and features great deals on all RVs in stock: new RVs, used RVs, come see the deals at St. Louis's RV Business Top 50 Award winning dealer for 2017 & 2018, Byerly RV.
Deals include great pricing on the widest selection of feature packed 5th Wheels like Keystone Sprinter Limited 5th Wheels, Keystone Laredo 5th Wheels, Keystone Sprinter Campfire 5th Wheels, and the class of luxury in the market, the Vanleigh Vilano 5th Wheel.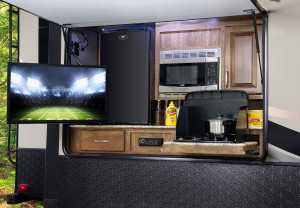 Don't forget to see the best selling lightweight Travel Trailer in the country, the Keystone Passport.  Byerly RV has a travel trailer for any budget with quality brands like the Keystone Hideout, Forest River Wildwood, and East to West Della Terra.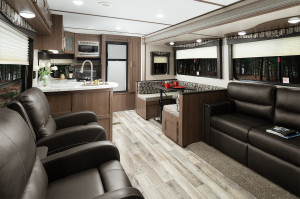 The RV deals just keep going from there.  Class A motorhomes, Diesels, Class C motorhomes, come shop the selection during the St. Louis Virtual RV Show.
For more information, come see Byerly RV in Eureka, MO, check out our full inventory on the Virtual RV Show inventory page, call us at 636-938-2000, or check us out on Facebook. Also check out the Midwest Gateway RVDA website, for more details.