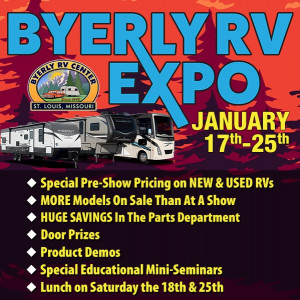 Looking for a great way to spend the holiday this Monday? Check out the Byerly RV Expo in Eureka, MO.  Visit Missouri's only RV Business Top 50 Dealer for 2019 and start planning some great escapes and adventures for your family in 2020.  Get excited about the RV lifestyle and see our great selection of affordable travel trailers, fifth wheels, Class C, Class B, and Class A motorhomes.  We have something for every family and every budget.
Plus check our product displays and demos plus games and prizes.  Come to Byerly RV in St. Louis, MO and get ready for camping season.  Perhaps you're looking for a winter escape?  Talk to our RV Rental department about all of the great new model rental motorhomes and rental trailers they have ready to go on your next adventure.  Just looking to pick up some accessories for your current RV, our RV Parts department is featuring tons of RV Parts and Accessories on Sale during the Byerly RV Expo.


While at Byerly RV in Eureka, MO, pick up our RV University Schedule for dates and times of our next educational class.  Sign up for great offers or subscribe to our YouTube channel for great informational videos and content about the RV lifestyle.
The Byerly RV Expo features:
•Special Pre-Show Pricing on both NEW RV and USED RV inventory
•MORE models on sale than at a show
•HUGE SAVINGS in the parts department
•Game and prizes
•Product demos
•Special educational mini-seminars
•Lunch on Saturday the 18th and the 25th.
For more information visit the RV experts at Byerly RV in Eureka, Missouri – at I-44 and 109.  Call us at 636-938-2000 or check us out on Facebook or Instagram.