The 2019 Midwest Gateway Fall RV Show at St. Charles Family Arena was another great success for the local and family owned dealerships of the Midwest Gateway RV Dealers Association. On display were hundreds of RVs and dozens of booths representing products and service of interest to RV owners and prospects.
Before the RV show weekend, Byerly RV in Eureka, MO hosted our monthly RV School for owners and prospects. September's topic was theme was "Byerly RV University Presents: Intro to RVing – Why We Do It – The thrill of adventure. The call to the open road. This is why we do what we do. This class is recommended for those thinking of getting into the RV lifestyle."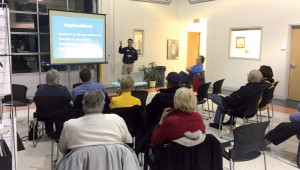 These non-selling seminars are informative for owners and prospects who want to learn about RVs without the sales pitch.  If you missed our September school, don't fret, we do post the full class online afterwards on our Byerly YouTube page.
Additionally the upcoming schools are held once every month, usually on the second Tuesday of the month.  More information can be found on our website: www.byerlyrv.com. And the full class schedule is posted here: https://www.byerlyrv.com/events/rv-school and below:
October 8th, 2019 – Byerly RV University Presents: Winter Prep An in-depth overview of everything that goes into getting your RV prepped for the winter season and how to save yourself hundreds of dollars in costly repairs that freezing temperatures could cause.
November 12th, 2019 – Byerly RV University Presents: Parts and Accessories Gadgets and upgrades galore! Today's RVs are filled with modern gadgets and electronics, come learn from the Byerly RV experts how to maximize your camping experience!
December 10th, 2019 – Byerly RV University Presents: RV Rentals Looking for a vacation adventure? Been planning that epic bucket list trip? Come listen to the pros at Byerly about why renting an RV might just be the perfect answer.
January 14th, 2020 – Byerly RV University Presents: How We Do It – RV 101 Learn from the experts at Byerly RV the basics of how to set-up and use your RV properly to ensure you and your family have a great camping experience.
February 11th, 2020 – Byerly RV University Presents: RV Systems – Innovations What's new in the RV world? Everything from Wifi, touchpad controls, camera systems and more will be covered.
March 10th, 2020 – Byerly RV University Presents: Spring Ready Spring is here! Time to get the RV out of hibernation and get it prepped for a great camping season.
April 14th, 2020 – Byerly RV University Presents: What to Expect – New Owners Seminar New to RVing? This is the class for you! In this class you will be taught what to expect when living the RV lifestyle – everything from RV basics and the inside scoop on how the industry works – from manufacturer to dealer.
May 12th, 2020 – Byerly RV University Presents: RV Electronics & Power Systems 12V? 120V? 30 Amp vs 50 Amp? What's the difference? Can you run everything at once? In this class you will learn the ins-and-outs of RVs power systems.
Checkout special offers on line at www.byerlyrv.com and see what's going on our Facebook or Instagram.  Byerly RV, 'The Center of the RV World' in Eureka, Missouri….since 1948.