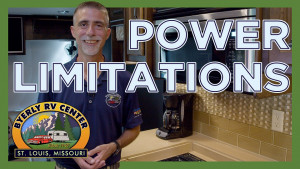 High draw items can lead to RV power problems.  Just because your RV has many appliances, doesn't mean you can run all of them at the same time without having potential issues. Have questions about what you can run at the same time?  Byerly RV in Eureka, Missouri has information for you.  Just like our monthly Byerly RV University seminars, we have created a series of RV instructional videos to answer the most common we have many more RV instructional videos available on our YouTube Page.
Running a microwave and an air conditioner at the same time on a 30 amp RV power system could lead to issues.  Are you continually popping circuit breakers when you plug in a hair dryer or coffee pot?  There's probably a simple explanation to your RV power problems.  Check out this new video from Byerly RV in St. Louis, Missouri to get a basic knowledge about the limits of RV power systems and which high draw items you can run simultaneously.
HAVE ADDITIONAL QUESTIONS?  CONTACT THE EXPERTS.
Our RV Parts Department:
parts@byerlyrv.com
636-938-2010
Or text us through the website!
Have an RV Service question, contact us via email, phone, or text (through the website) and we can help.
service@byerlyrv.com
636-938-2020
Or text us through the website!
STAY CONNECTED FOR MORE RV TIPS, TRICKS, AND HELPFUL INFORMATION:
Byerly RV Website
Facebook
Instagram
Twitter
Byerly RV, in Eureka, Missouri is the Priority RV Network dealer for the St. Louis, MO market. Byerly is a family owned company which was founded in 1948. Byerly RV is St. Louis's only Top 50 rated RV dealer for the past 3 years!  Byerly is truly the Center of the RV World.
CONTACT US:
636-938-2000
800-878-3325
295 East 5th St
Eureka MO, 63025