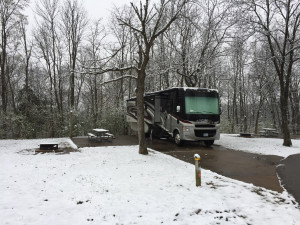 You may not have considered RV camping in winter.  The end of the year is traditionally the time when we do our end of year maintenance, winterize, cover and put our RV away. Or, we get them out of storage and drive south!  For those of us who stick around the middle and northern parts of the US (like St. Louis, Missouri) for winter, it doesn't have to be the end of camping. At Byerly RV we know that as RVers we are inherently the adventurous type and RV camping in winter just adds to our experiences and stories. It gives us the opportunity to experience a local park that we've been to many times before in a completely different way. The trail we've hiked before will look completely different. We will see things we've never noticed before: a great view, an old stone structure in the woods, different wildlife and perhaps their tracks in the snow. The campfire takes on a greater meaning and it's warmth is comforting in the cool air.
And the best part may be that by RV camping in winter, we avoid the in-season crowds! Part of the reason for this, of course, is the fact that the Missouri State Parks and many private campgrounds shut off the water and some of the amenities during the winter. But that's ok, there are still a few parks in Missouri that keep a shower house with restrooms open all year. Also, Silver Dollar City in Branson will keep their full hookups open through the end of the year if they can. If you're looking for a city that celebrates the holidays, Branson is one of the best in the country.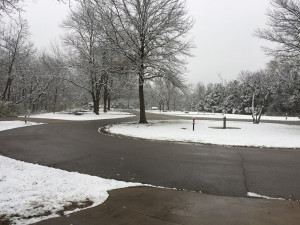 Even though your camper's plumbing system may be winterized, the rest of your camper works. And if we get a nice weekend, which it seems we always do in January, you can de-winterize, use, and re-winterize your camper for about $15 in antifreeze if you can do it yourself.  Be sure to check out one of our Byerly RV University seminars on our YouTube page.
So don't let winter stop you. Have fun and enjoy RV camping in winter! Expand your camping horizons and try something different. Maybe you get an extra trip or two in this year and find a new favorite place. There's no such thing as too much camping!