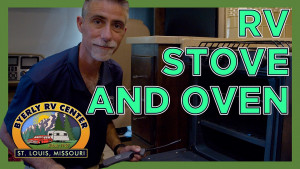 RV appliances work in a variety different ways.  Some use LP, some are 12v, and others are 110v electric powered.  Have questions on how your RV range and oven operate?  Byerly RV in Eureka, MO can help answer your questions. Just like our monthly Byerly RV University seminars, we have created a series of RV instructional videos to answer the most common we have many more RV instructional videos available on our YouTube Page.
While many RV appliances powered by 12v or 110v electric, RV appliances like a range and oven are often LP Gas powered.  Some have automatic sparking ignitions, but many others require a manual lighter.  Do you have questions on how to use your LP gas range and oven?  Watch this instructional video from Byerly RV in St. Louis, Missouri to learn more about your RV appliances like your range and oven.
Check out the Byerly RV Parts Store for more details and available RV appliance accessories.
HAVE ADDITIONAL QUESTIONS?  CONTACT THE EXPERTS.
Our RV Parts Department:
parts@byerlyrv.com
636-938-2010
Or text us through the website!
Have an RV Service question, contact us via email, phone, or text (through the website) and we can help.
service@byerlyrv.com
636-938-2020
Or text us through the website!
STAY CONNECTED FOR MORE RV TIPS, TRICKS, AND HELPFUL INFORMATION:
Byerly RV Website
Facebook
Instagram
Twitter
Byerly RV, in Eureka, Missouri is the Priority RV Network dealer for the St. Louis, MO market. Byerly is a family owned company which was founded in 1948. Byerly RV is St. Louis's only Top 50 rated RV dealer for the past 3 years!  Byerly is truly the Center of the RV World.
CONTACT US:
636-938-2000
800-878-3325
295 East 5th St
Eureka MO, 63025