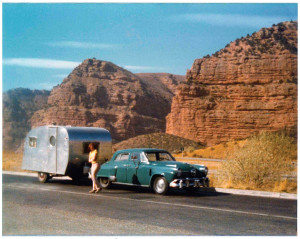 An unforgettable RV Trip – From the desk of Russ Patton – Owner & President of Byerly RV in Eureka, MO
While I was getting educated at Washington University I met a young redhead who said her family had bought a Byerly trailer. It turned out to be an original that Walter Byerly built in 1954. I had a 1951 Studebaker. I married that redhead and soon afterward Adrienne and I set out for a three-week adventure through the western states.
Our decision to begin heading south on I-44 would be regretted later. The trip was unforgettable, although sometimes challenging. In the desert we had to operate the heater to keep the car from overheating.
Unfortunately for Adrienne, the Studebaker heater consists of a "radiator" below the front seats. She retreated to be back seat. The trailer brakes were a lifesaver, but our venture into downtown San Francisco was harrowing without the trailer. I was constantly readjusting the brakes.
Highlights included watching hot air balloons practicing for the upcoming event in Albuquerque, New Mexico, driving the Pacific coast highway from San Clemente to San Francisco, enjoying beautiful Oak Creek Canyon, and visiting friends and relatives along the way.
We barely made it over the mountains before the October snows closed the passes. The ride home was harrowing. A blizzard followed us through most of Kansas, but we plowed on because we didn't want to stop in the middle of it.
It all started in a Byerly RV. Why not see what unforgettable RV trip you can get started in an RV from Byerly RV in St. Louis, Missouri? You can see the original Byerly trailer at our location in Eureka, MO. Our retro-RV was a bit primitive. New RVs let you enjoy the comforts of home or any hotel lodging. Byerly in Eureka is celebrating 72 years as one of the Midwest's oldest and largest RV Dealers.
by Russ Patton
Byerly is your portal to an unforgettable RV trip with leading brands such as Coachmen, Winnebago, Tiffin Allegro, Thor, Keystone, Forest River, and East to West. Byerly is the St. Louis area's top seller of motorhomes, but also offers a huge selection of brands of travel trailers and fifth wheels.
STAY CONNECTED FOR MORE RV TIPS, TRICKS, AND HELPFUL INFORMATION:
Byerly RV Website
Facebook
Instagram
Twitter
Byerly RV, in Eureka, Missouri is the Priority RV Network dealer for the St. Louis, MO market. Byerly is a family owned company which was founded in 1948. Byerly RV is St. Louis's only Top 50 rated RV dealer for the past 3 years!  Byerly is truly the Center of the RV World.
CONTACT US:
636-938-2000
800-878-3325
295 East 5th St
Eureka MO, 63025