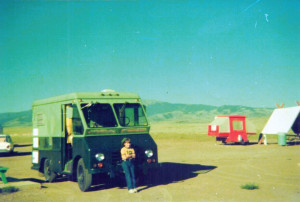 A tale of RV Adventure from the desk of Russ Patton, owner of Byerly RV in Eureka, MO:
"When you set out for Ithaka
Ask that your way be long,
Full of adventure, full of instruction.
……
Have Ithaka always in your mind,
Your arrival there is what you are desired for.
But don't in the least hurry the journey."
Rosinante was an old 1963 Dodge post office truck which I converted into a fine motorhome with my little brother Guy who kept urging me to finish so we could go camping. Finally, in late August, we went "camping." I didn't tell our parents where we were going. For days we chased the sun until we couldn't go any farther. From San Clemente State Park in California we looked down on the Pacific Ocean. But along the way we fought the winds across Kansas, saw the Grand Canyon, Cave of the Winds, Oak Creek Canyon and Disneyland.
We traveled in luxury…sort of. Our 48-square-feet of floor space included a sofa/gaucho bed, a bathroom with recirculating toilet, a kitchen with refrigerator and sink and a furnace. The rear roll-up door opened up to a fold-down platform shaded by an awning. Our RV adventure took a little over two weeks, quite a feat since Rosinante couldn't go over 50 mph. But we made it back from our RV adventure…two days after school started.
America calls. Share it with your family and take an RV adventure. Buy a new RV or used RV, or rent an RV from Byerly RV in Eureka, but don't be late for school!
Byerly RV, the Center of the RV World. Start you RV adventure at St. Louis, Missouri's only RV Business Top 50 Dealer for 2017, 2018, and 2019. Check us out at Byerly RV.com or visit us on Facebook. …But don't be late for school