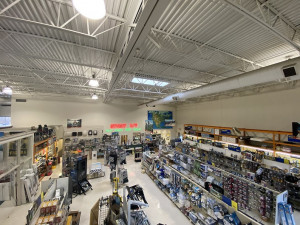 Byerly RV in St. Louis, MO is having an online RV Parts sale during the entire month of April.  Visit our Online RV Parts store and enter the code APRIL20 at checkout to receive 20% off your entire order.
Extend the life of your RV's tires by protecting them from the sun's damaging UV rays by adding tire covers whenever you're not using your RV. Shop Adco Tire Covers at Byerly RV's Online RV Parts store.
The Byerly RV parts department is one of the largest parts stores in the area. But we also have an online RV parts store. Part of what makes up the huge selection of products available is a great selection of books related to RVs and camping.  Start researching your next RV adventure now!
"Smart" is an understatement when it comes to this trailer jack. Designed with the same durability and strength as our Power Tongue Jack, the Smart Jack by Lippert Components, Inc. takes raising and lowering a-frame trailers to a whole new level. From the Auto-Hitch Memory Function that remembers the exact hitch height needed for your trailer – to a modern, sleek control panel that's easy to operate and backlit for night use, every feature of this jack was thoughtfully designed to give you an easier, more enjoyable experience on the road.
Furrion Vision S cameras offer from 65 to 120 degree viewing angle, night vision, motion detection and auto wake function for extra security when the vehicle is stationary. High-resolution live-steaming cameras for both sides of your vehicle and cameras to help you reverse safely.
HAVE ADDITIONAL QUESTIONS?  CONTACT THE EXPERTS.
Our RV Parts Department:
parts@byerlyrv.com
636-938-2010
Or text us through the website!
Have an RV Service question, contact us via email, phone, or text (through the website) and we can help.
service@byerlyrv.com
636-938-2020
Or text us through the website!
STAY CONNECTED FOR MORE RV TIPS, TRICKS, AND HELPFUL INFORMATION:
Byerly RV Website
Facebook
Instagram
Twitter
Byerly RV, in Eureka, Missouri is the Priority RV Network dealer for the St. Louis, MO market. Byerly is a family owned company which was founded in 1948. Byerly RV is St. Louis's only Top 50 rated RV dealer for the past 3 years!  Byerly is truly the Center of the RV World.
CONTACT US:
636-938-2000
800-878-3325
295 East 5th St
Eureka MO, 63025