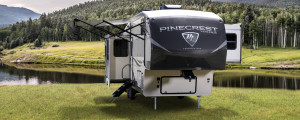 The luxury mid profile 5th Wheel segment will forever be changed with the arrival of Pinecrest by Vanleigh, a division of Tiffin.  Experience the newest statement of luxury and affordability at Byerly RV in Eureka, MO.  Vanleigh is specializing on bringing luxury, quality, and reputation into the 5th wheel segment the way that their parent company, Tiffin Motorohomes, has done for the motorized RV segment.  Come see the first Pinecrest luxury mid profile 5th wheel at Byerly RV in St. Louis, Missouri.  The 392 MBP has just arrived.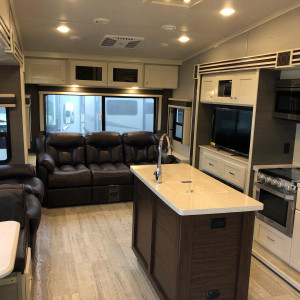 Prepare to be amazed by the stunning interior, the luxurious accommodations, and the innovative features found in each of the Pinecrest luxury mid profile 5th wheel from VanLeigh RV! These extraordinary 5th wheels will transform you from a first-time buyer into a road-tripping veteran in no time!
Enhancing your lifestyle and meeting your budget, the Pinecrest delivers gorgeous floor plans that have been decked out with residential features, like a kitchen island with overhead lighting, a 40″ fireplace, a residential refrigerator, and a hutch for your dishes. Not only that, but you will also find a master bedroom with loads of storage for your various luggage and travel essentials.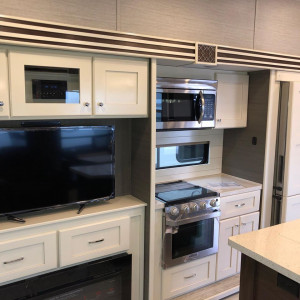 With a dry weight of under 12,500 and a height under 13 foot, the Pinecrest by Vanleigh packs a ton of Tiffin luxury into a smaller package.  But don't think smaller means lacking in space.  Check out the huge rear living area, the kitchen with household appliances, the separate mid-room with a bunk above, plus a huge walk around queen bedroom.
See the new Pinecrest luxury mid profile 5th wheel at Byerly RV in Eureka, MO. Visit our website at www.byerlyrv.com connect with us on Facebook, or Instagram or call 636-938-2000.