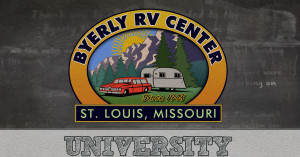 Learn from the RV experts at Byerly RV in Eureka, MO. Have you ever wondered how to properly set up your RV or campsite, how your 12v system relates to your 110 system, how to properly flush your tanks?  On January 14th, 2019 – Byerly RV University Presents: How We Do It – This class is your crash course on all things RVing. Everything from basic campsite set up, proper use and operation of your RV, to helpful tips and tricks from people who actually go RV camping every year.  This is the time to start preparing for the new season of RVing and the RV experts at Byerly RV are ready to help you.
Sign up now for the seminar on Tuesday January 14, 2020 at Byerly RV in St. Louis, MO.  Learn from the RV experts on how to streamline your RV experience on your next family trip or weekend getaway. Your next adventure is waiting.
For more information visit the RV experts at Byerly RV in Eureka, Missouri – at I-44 and 109.  Call us at 636-938-2000 or check us out on Facebook or Instagram.