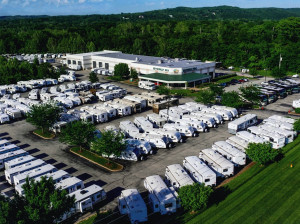 The holiday season may be the best time to trade in your RV if you are an Illinois resident.  This is just in time to see some of the newest models in the RV industry, available at Byerly RV in Eureka, MO.
With the end of the year rapidly approaching, Illinois consumers should be aware that a new law was passed in Illinois which affects the credits consumers get for their trade-in vehicles.  If you've been wanting to trade in your RV and upgrading to a newer model 5th wheel, travel trailer, Class A motorhome, or Class C motorhome, you may save thousands of dollars if you do it before the end of December 2019.
According to IllinoisPolicy.org, "The state (Illinois) currently collects no sales tax on a car's trade-in value, which acts as credit toward a new vehicle purchase. By law, sales tax only applies to the difference between trade-in value and the new vehicle's purchase price.That changes Jan. 1. Under Senate Bill 690, signed June 28 by Gov. J.B. Pritzker, state and local sales tax will be applied to any trade-in value above $10,000. The new tax is expected to cost Illinoisans $60 million a year".
While the law was passed with cars in mind, this may impact any trade in credits for licensed vehicles including RV. So if you are looking to upgrade to a new RV, it may be best to trade in your RV now!
Imagine yourself in a new 5th Wheel like the Chaparral 381RD, a new Travel Trailer like the Hideout 318LHS, a new Class A motorhome like the Allegro 36LA, or a new Class C motorhome like the Four Winds 31Y. With the new models rolling in from the manufacturers every day, it's a great time to trade in your RV.
If you are wanting to trade in your RV before this tax credit potentially disappears, visit Byerly RV in St. Louis, MO, call us at 636-938-2000, check us out on Facebook or Instagram.