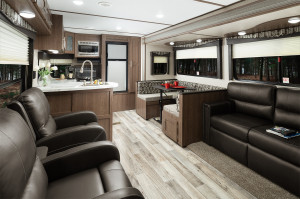 Have you ever considered an RV as a holiday season RV guest house?  One of the coolest parts of owning an RV is all the ways you can use it in addition to camping, and with the upcoming Holiday Season fast approaching we should remember how great of an RV guest house your camper can be. Obviously, you must have a place to park it and plug it in. But if you do, your RV can make a great extra living or sleeping space for visitors.
If your guest has never stayed in an RV, it will probably be an experience they will talk about for years to come and it will add to their life experience. Who knows, they may even get inspired and buy their own new or used RV!  I firmly believe that, deep down, almost everyone wants an RV at some point in their lives.
Some of our customers tell us they let their guests have the house and they stay in the RV. Either way, the more ways we can use our camper, the more value we get from it. Also, always keep in mind that if you will be traveling this Holiday Season that there's no better way to visit family and friends than in your own RV.
Plus if you don't own an RV yet, that's ok, because you can always rent one here at Byerly RV in Eureka, Missouri and still get in on all the fun!  Every year people contact us looking for additional space for their family.  We have rental motorhomes and rental travel trailers for rent that can provide you with a holiday RV guest house.  Contact Byerly RV Rentals today at 636-938-2018 or rentals@byelryrv.com and see what we have available that can give you great accommodations for your upcoming family visits.