Cross-Country in a Gemini
Hi everyone!  Dave here, at Byerly RV in Eureka, Missouri.  Some of you may know me from our YouTube channel or on the Byerly RV Facebook page.  I do a lot of the videos and teach some of the Byerly RV University classes.  I've been at Byerly RV for over 15 years and I am an avid RV'er myself.
I wanted to follow up on our previous blog post about the brand new Thor Gemini All Wheel Drive motorhome.  I had the chance to take a couple trips last summer in a Gemini 23TW that we keep in the rental fleet here at Byerly RV.  The Thor Gemini is on the new Ford Transit chassis, and it is one of the best-driving motorhomes I have ever been in.
For 2021, Ford changed the Transit motor from diesel to gasoline, and it is a huge improvement.  Gasoline tends to be easier to get, and since the motor is gasoline, so is the generator.  Typically, a vehicle's generator uses the same fuel as the vehicle's motor for the sake of simplicity and efficiency.  The previous Gemini had a LP generator, mainly because the increased cost of a diesel generator would push the Gemini out of its target price range.  Unfortunately, there was not very much propane on board, and the LP tank is not nearly as convenient to refill as the gasoline tank.  Therefore, in my opinion, having a gasoline motor and a gasoline generator in a small motorhome is the ideal combination.  Since the generator shares the same fuel tank as the motorhome, I can fill that gasoline tank and get quite a bit of generator time before I need to refill.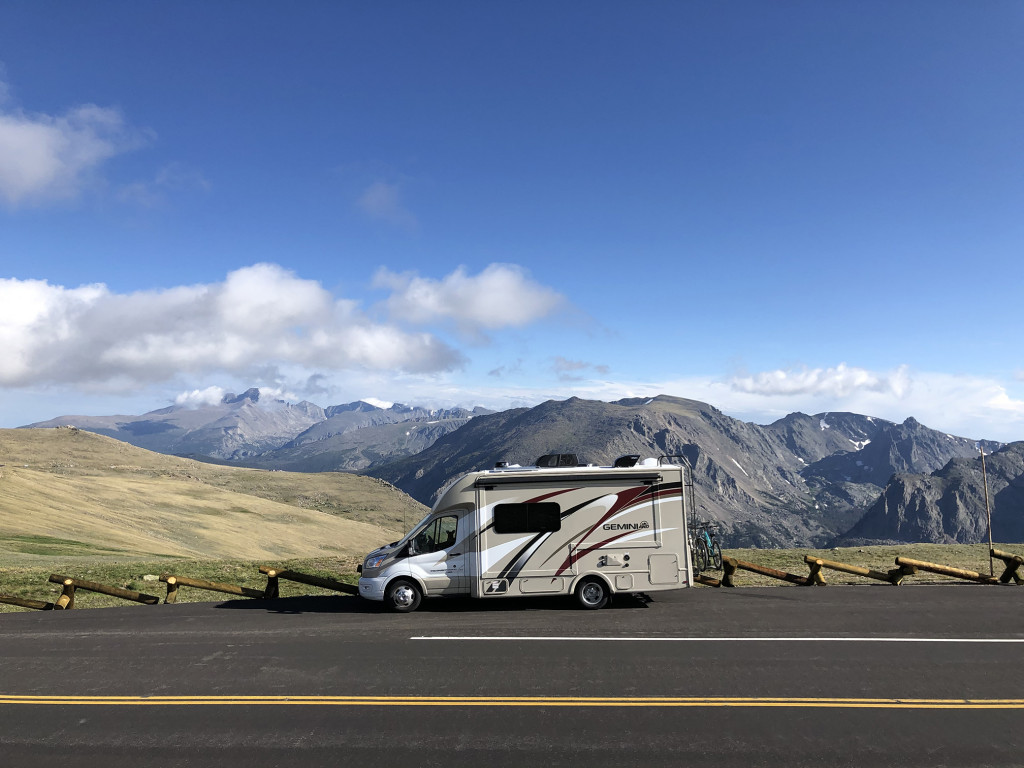 The new Transit is also AWD.  That's right!  The new Thor Gemini is a full-time all-wheel drive motorhome, with different modes!  It's got normal mode, economy mode, slippery mode; it even has a mode for mud and ruts.  I tried not to take that as a challenge, but as you will read later, it came in very handy.  In addition to all-wheel drive, the Thor Gemini has traction control, rain-sensing wipers, and it even has lane-centering assist.  So, the Gemini has cameras mounted in the windshield that recognize the lanes on the road, and the Gemini will actually steer itself back into the lane.  What this means is that you can set the cruise control and drive effortlessly for hours without having to constantly battle the motorhome to keep it from wandering.  And you can do this at highway speed all day long, because the Transit is just like any other passenger van and has no problem maintaining modern highway speeds, if that's what you want to do.  I personally really appreciate a smaller motorhome that keeps up with traffic and is easy to drive.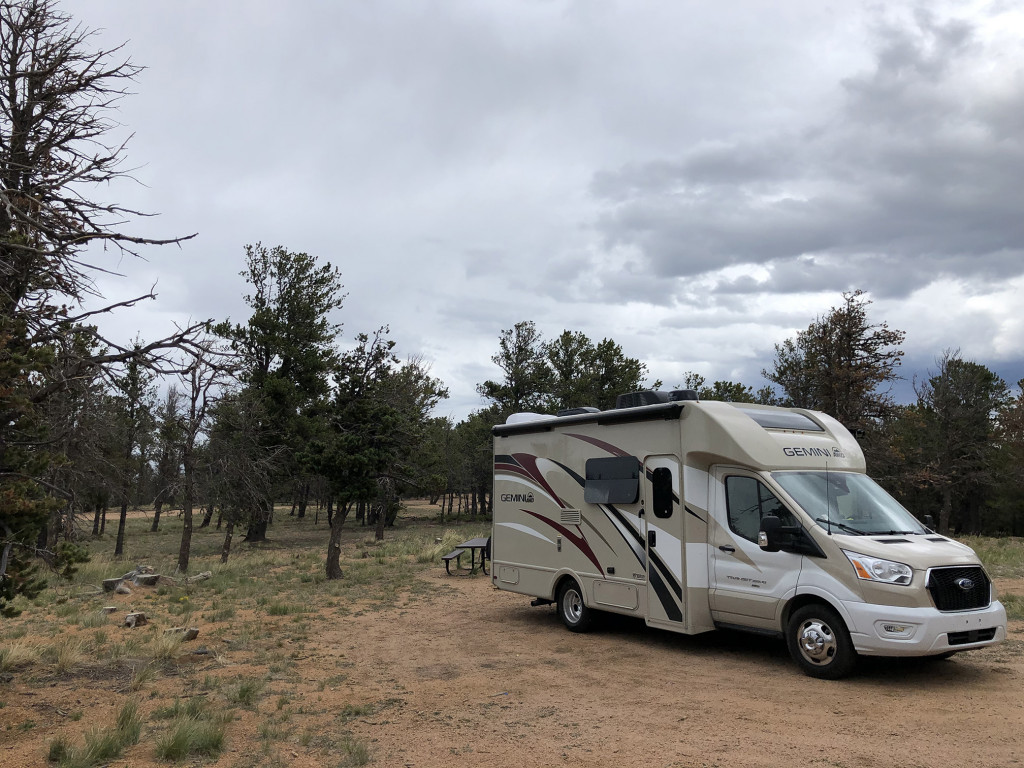 We drove from St. Louis to Colorado Springs, drove up Pike's Peak, and then went to Rocky Mountain National Park and traversed Trail Ridge Road, which is the highest continuously paved road in the United States.  My family has been going to RMNP since I was a little kid and I've been through those mountains in everything from a little Toyota station wagon to a Cadillac.  I can remember crawling up over Berthoud Pass in that little Toyota, having to get a run at the hills.  I can honestly tell you that the Thor Gemini on the new Ford Transit chassis did it better than anything I have ever driven in the mountains.  Up switchbacks and over 11,000 feet and it did not lose any power.  It was absolutely amazing.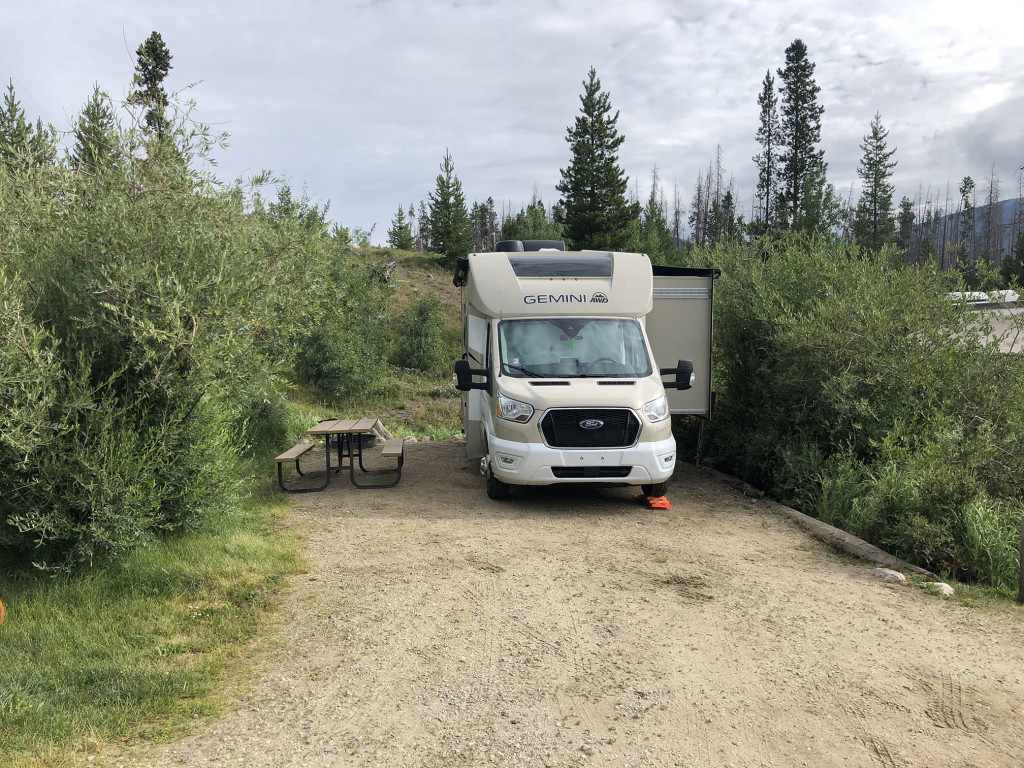 We came home for a week and took off for Pensacola Beach, Florida.  Now, I normally tow a Jeep Wrangler behind the motorhome so that we have a vehicle when we arrive at our destination.  However, for these two trips, we left the Jeep at home.  That meant that our only mode of transportation was the motorhome, so we took it everywhere.  I was able to manage every parking lot, road and rest stop with ease due to the Gemini's size and how easy it is to maneuver.  And, we always had our stuff with us.  Our food, our toys and our comfortable accommodations.  Part of the reason we go to Pensacola Beach is they have two designated dog beaches, which can be hard to find in Florida.  So every day we would unplug at the campsite and drive the motorhome down to Dog Beach.  The parking lot is small, but you can park off the side of the road.  The only problem is that you are parking in soft sand.  I would never have parked a normal motorhome in this sand, but the Thor Gemini had no problems at all.  I just put it in mud mode, and it drove right out of the sand, and the tires were half buried.  It really was incredible.  And being able to have our own air-conditioned private facilities right there on the beach was great.  I could see driving the Thor Gemini to Corpus Christi, Texas and driving right out onto the National Seashore and camping right on the sand.
To top it off, I got fuel mileage in the low teens the entire time, even in the mountains.  That is way better that most motorhomes, and just another amazing driving feature of the new Thor Gemini.  When you combine that with the ease of driving, the maneuverability, and features like lane centering and mud/ruts mode, you get the best driving motorhome around.
The Thor Gemini redefines the Class C and Class B. See the best driving vehicle on the market at Byerly RV in St. Louis, MO. The Thor Gemini is not only available for sale, but Byerly RV also offers the Thor Gemini for rent!
STAY CONNECTED FOR MORE RV TIPS, TRICKS, AND HELPFUL INFORMATION:
Byerly RV Website
Facebook
Instagram
Twitter
Byerly RV, in Eureka, Missouri is the Priority RV Network dealer for the St. Louis, MO market. Byerly is a family owned company which was founded in 1948. Byerly RV is St. Louis's only Top 50 rated RV dealer for the past 3 years!  Byerly is truly the Center of the RV World.
CONTACT US:
636-938-2000
800-878-3325
295 East 5th St
Eureka MO, 63025