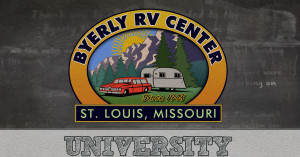 Learn how to get your RV ready for spring tonight, March 10th, 2020, when Byerly RV University Presents: Spring Ready. Spring is here! Time to get the RV out of hibernation and get it prepped for a great camping season.  Check out our informative video about what will be covered on Facebook.
Tonight at 6:30pm, Byerly RV will go over all of the best tips to get your RV ready for spring.  Get de-winterized, do a systems check, inspect around your camper.  The weather is getting better and it's almost time to get camping, don't wait, learn from the experts on how to prep for the season.  Learn about what RV Parts you may need to make your prep easier, or what basic RV service you may need to perform to help your camping season be unforgettable.
The class to get your RV ready for spring is tonight, Tuesday March 10th, 2020 at 6:30pm.  Sign up is still available here: https://www.byerlyrv.com/events/rv-school  Learn from the RV experts on how to streamline your RV experience on your next family trip or weekend getaway. Your next adventure is waiting.
For more information visit the RV experts at Byerly RV in Eureka, Missouri – at I-44 and 109.  Call us at 636-938-2000 or check us out on Facebook or Instagram.