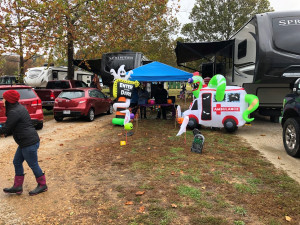 The weather may be changing, but there's still time for some great Fall RV camping. Here at Byerly RV, we enjoy camping as much as you do. That's part of the reason we host a Customer Appreciation Campout twice a year for our clients that purchased their campers at Byerly in Eureka, MO. Last weekend we held our annual Byerly Fall Campout, and this year was our first Halloween-themed event. Even with the rain, it was a great time for all and we'd like to thank everyone who came out and participated.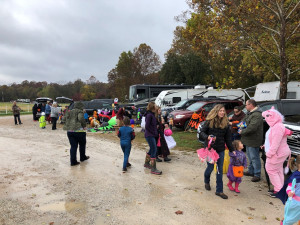 Friday began with dinner and the bingo tournament, and Saturday afternoon we had a campsite decorating contest and everyone trick-or-treated from campsite to campsite. It stopped raining just long enough for all the kids to fill their candy buckets before dinner, which was catered by Super Smokers in Eureka and Blue Springs Ranch. Good hot food on a chilly Fall evening to go with the campfire.
This year, Blue Springs Ranch extended their "Boo Springs" event for Byerly and our customers.  The features included a haunted hay maze, haunted school bus, and haunted house. It was awesome! Blue Springs Ranch does a terrific job and everything is entirely family friendly. Everyone had the opportunity to go through and many dared to brave the haunted adventures! By nightfall we hosted a DJ under the Byerly tent and the evening ended with a "Monster Mash" of a dance party.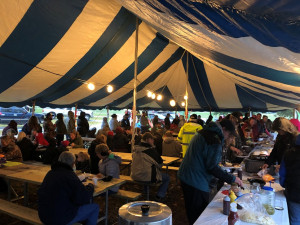 If you purchase your RV here at Byerly RV in St. Louis, Missouri, and are interested in attending one of the Byerly Customer Campouts, be sure to Like us on Facebook and subscribe to our YouTube channel to keep up with the latest news, which includes announcements regarding Customer Campout dates and signups. You'll also want to follow us on Instagram and Twitter. Even if you don't own an RV, don't forget, you can rent an RV from us and bring that! We hope to see you at the next Byerly RV Campout!