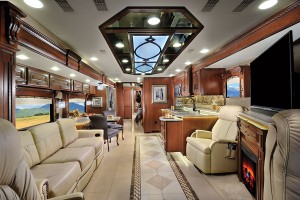 Diversify Into Your Dreams
From the desk of Russ Patton, Owner & President of Byerly RV
We hear so much about quality time, but it's the quantity of time that we really want. If we could only unplug, disengage and spend quality time together. Well, we can in an RV, travel trailers close to nature or motorhomes as complete as a luxury condo.
With the stock market bouncing around and uncertainty abound, why not diversify by turning any paper profits into something tangible like that RV you have been dreaming about? Or you can hedge your bets by playing the spread and converting just enough cast to make a healthy down payment and win either way.
"Afoot and lighthearted I take to the open road/Healthy, free, the world's for me/The long brown path before me leading/Wherever I choose."
Thus spoke Walt Whitman over 100 years ago and that spirit still stirs Americans. Well, maybe not afoot, maybe not brown paths, but we can travel in comfort in an RV. Whether that's a luxurious diesel Class A motorhome, a family friendly travel trailer, or any of the many sizes and styles of 5th wheels, diversify into your dreams and give Byerly RV in Eureka, MO a call at 636-938-2000, text through our website, email us directly or just check out our content on the website, Facebook or YouTube.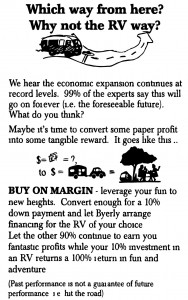 When you diversify into your dreams, Byerly RV in St. Louis, Missouri can help guide you down the road.
STAY CONNECTED FOR MORE RV TIPS, TRICKS, AND HELPFUL INFORMATION:
Byerly RV Website
Facebook
Instagram
Twitter
Byerly RV, in Eureka, Missouri is the Priority RV Network dealer for the St. Louis, MO market. Byerly is a family owned company which was founded in 1948. Byerly RV is St. Louis's only Top 50 rated RV dealer for the past 3 years!  Byerly is truly the Center of the RV World.
CONTACT US:
636-938-2000
800-878-3325
295 East 5th St
Eureka MO, 63025