For a unique and fun camper, you need to simple look at the Forest River RV R-Pod. From the moment you lay eyes on it, you will know that the R-Pod is special.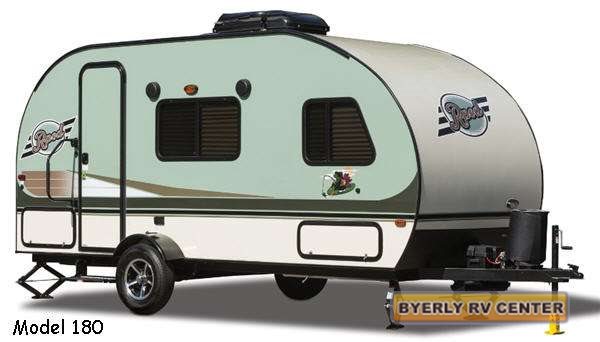 The first thing you will notice is the design of the exterior. It has a classic shape and color palate that makes it immediately stand out, but this design does more than just make the RV look good. The curved front makes it more aerodynamic to help reduce wind resistance which makes it get better gas mileage. Plus, many of these models will be in the ultra lite category to make pulling the travel trailer easier while saving you even more money on gas.
Once you step inside the Forest River R-Pod, you will notice even more items that make it distinctive. Some interior features include:
Spacious Interior: The outside of this camper will fool you about the size of the interior. With the help of convenient-to-use slideouts and expandable portions, this Forest River will have a place for everything and everyone. Complete with a kitchen, bathroom, seating and sleeping areas, you will not believe how much room you will have.
Convertible Sleeping Options: In order to fit everything inside, the R-Pod incorporates convertible and comfortable furniture that will serve dual purposes. During the day, you will have a large dinette set where you can sit and enjoy your meals, and then, at night, it can be easily turned into an extra place where someone can sleep.
Beautiful Décor: Every interior decoration piece will be modern and beautiful. From the seamless vinyl flooring to the window treatments, everything will match wonderfully and make for a high end living space.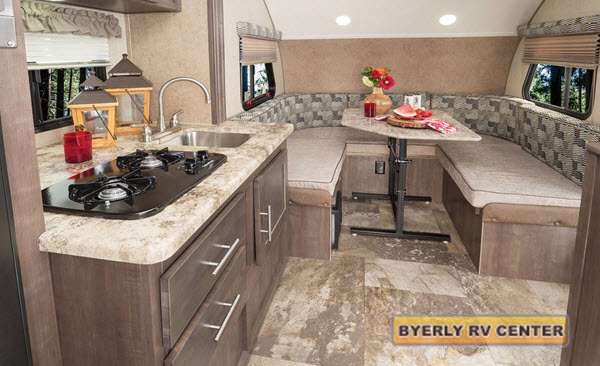 There is much more that can be said about this Forest River RV such as exterior speakers, a bright patio light, and scissor stabilizer jacks. All of these amenities will make your RVing experience with the R-Pod travel trailer much more enjoyable.
If you are ready to climb inside one of these amazing vehicles, you can contact us or come down to our location and take a look for yourself. We would love to show you around all of our travel trailers, fifth wheels, and motorhomes, so you can head home in exactly what you want.