Byerly RV Center is happy to announce our Summer Sale going on our outstanding Keystone RV Hideout travel trailers! With two floorplans and plenty of features to make the most our of your next vacation, the Hideout is one of the finest travel trailers on the market; and, for these prices, you won't believe how much bang you get for your buck.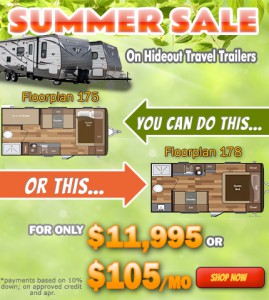 The 175 floorplan features a massive queen bed with bedroom storage to fit all of your camping gear. This, on top of the bunk set in the rear means that you can bring the entire family and have plenty of sleeping space. It also comes with a fully-loaded kitchen with stove, sink, pantry, and more.
The 178 floorplan features the same size of queen bed with an enclosed bedroom for additional privacy. It also has a dinette with an overhang, allowing you to have all the space you need for your kitchen gear. And, with a bathroom and shower in the rear, you may never have to leave the camper.
This summer sale is for a limited time only, so you need to make sure you come down as soon as you can to get one of these outstanding deals! With a limited supply, we want you to have a chance to get into one of these travel trailers today! The Hideout is perfect for novice newbies or experienced veterans alike!
You can get one of these awesome travel trailers for only $105 per month, based on a 10% down on approved credit. Check out the 175 floorplan and the 178 floorplan of the Hideout today and contact us if you are interested in learning any more on these door-busting prices! Come down to our dealership to see the Hideout first hand and get a walk-through to see its features for yourself.