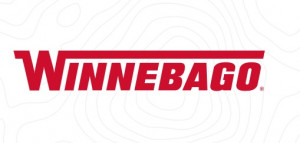 Byerly RV in Eureka, MO is honored to be among the great list of Flying W Winners named in the Winnebago top dealer award.   Winnebago established its dealer excellence program in 1986 to recognize select dealers for service excellence and superior customer satisfaction.  he Flying W Dealer Excellence Award for 2021 was announced this week and it features Byerly RV as a Winnebago top dealer.
"Despite the unprecedented challenges of the past year, these dealers really stepped up and helped set the standard for the entire RV industry," said Dean Casad, director, Customer Support at Winnebago. "We are proud to recognize their outstanding commitment to serving Winnebago owners."  For 2021, the Flying W award recognizes top motorhome and towable dealer locations from February 2020-February 2021. The Flying W program uses surveys sent to owners upon a new RV registration and after warranty repairs.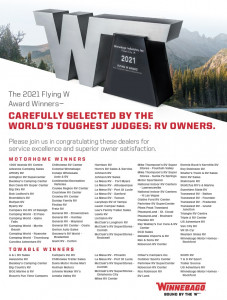 Dealers will receive Flying W display materials as well as Flying W designation on Winnebago's online dealer locator as recognition for being a Winnebago top dealer.  Winnebago believes these display materials are a signal to consumers that they will have "industry-leading shopping and ownership experiences at these dealerships". Byerly RV in Eureka, MO is the leading motorhome dealer in the St. Louis area featuring the widest selection of brands for Class A, Class C, and Class B motorhomes.
Come see great Winnebago brands like Revel, Adventurer, Vista, View, Forza, and Minnie Winnie at Byerly RV in Eureka, MO.  Inventory is currently limited due to supply constraints across the industry, so there's never been a better time to order yours today to secure the earliest possible arrival date.
STAY CONNECTED FOR MORE RV TIPS, TRICKS, AND HELPFUL INFORMATION:
Byerly RV Website
Facebook
Instagram
Twitter
Byerly RV, in Eureka, Missouri is the Priority RV Network dealer for the St. Louis, MO market. Byerly is a family owned company which was founded in 1948. Byerly RV is St. Louis's only Top 50 rated RV dealer for the past 3 years!  Byerly is truly the Center of the RV World.
CONTACT US:
636-938-2000
800-878-3325
295 East 5th St
Eureka MO, 63025