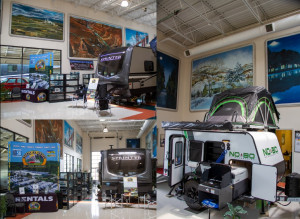 When we designed the new Byerly RV location in Eureka, MO in 1999 we wanted to celebrate life on the road, the RV way. Two local artists, Jay Ferger and Debbie Ferris captured the dream in giant, hand-painted murals decorating our showroom. They are a pictorial journey representing the four cardinal points and mounted on their respective walls.  Since their creation, the murals have become an iconic feature of the dealership and have been recognized across industry publications.
We're sad to say that recently Jay Ferger has passed on.  But we're proud and honored to have some of his amazing art displayed at Byerly.  His images bring life to the idea of the experience, the journey that we have always felt the RV lifestyle is about.  The heart of America beats through these paintings and helps guide the viewer through an adventure from sea to shining sea.
Each picture evokes an expression. What do they say to you? We cover the four directions, the four seasons with eleven murals. We could say that there is one for every month of the year. Perhaps the missing one is for you to create. Can you picture yourself RVing into the world of "Natural Light?" Never before has the natural beauty of America been so accessible.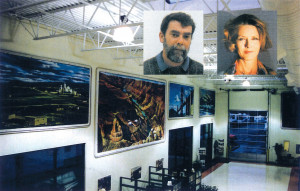 There is no substitute for being there. Go for it! Your RV is your second home on wheels. And since 1948, Byerly RV has been your gateway to adventure and family memories.
Byerly RV, the Center of the RV World. Check us out at Byerlyrv.com and Facebook. Just two miles east of Six Flags in Eureka, Missouri. 1-800-8RV-DEAL.