Local Dealer Byerly RV Named as RVBusiness Top 50 Dealer
Eureka, MO – RVBusiness magazine recently released the list of its 2022 Top 50 RV Dealers in North America Awards recipients, including local dealer Byerly RV located at 295 E. 5th St. in Eureka, Missouri.
"Winning the Top 50 Award five times in a row requires constant dedication from the entire Byerly RV team. From our mission statement of making our customers the experts in the campground, to our in-house education programs and focus on service after the sale, we make it our goal to provide the RV experience that people expect and deserve," said Byerly RV President Warren Patton.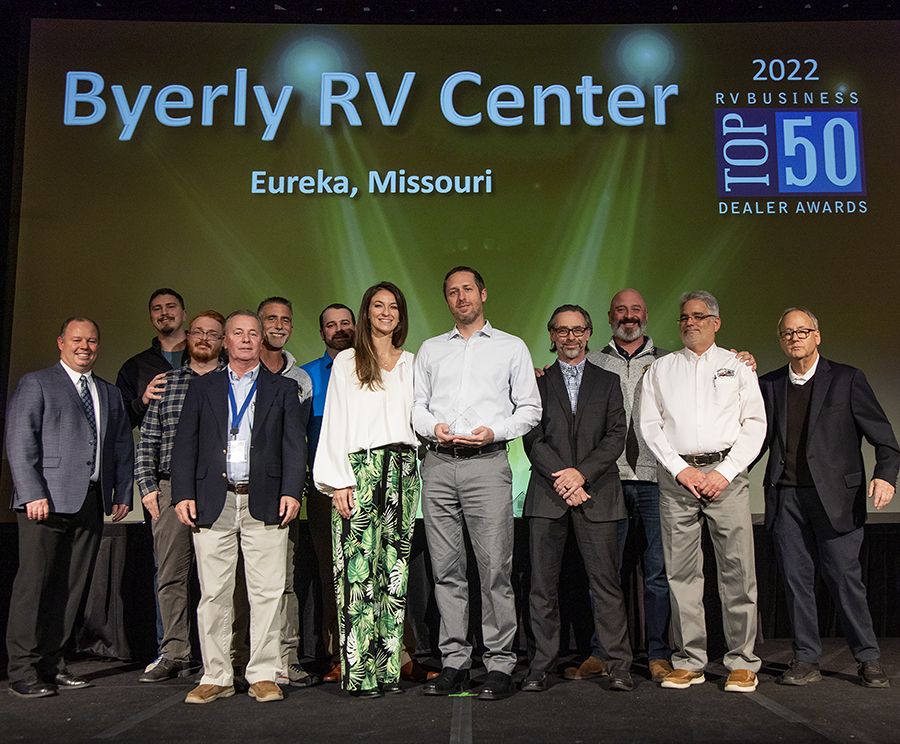 Dealers across the United States and Canada must first qualify for invitation to apply through nominations from RV manufacturers who believe they're outstanding in their field. Then, nominees fill out a comprehensive application covering practices pertaining to consumers, staff, marketing, charitable endeavors and overall business procedures. An independent panel of industry experts then reviews the applications during an intensive closed-door session at the RV/MH Hall of Fame & Museum in Elkhart, Ind., known as the "RV capital of the world."
"The 12 judges involved in reviewing the applications again this year engaged in lively discussions through two days of heated debate," said Dealer Coordinator Barb Riley. "I don't know that I've ever seen that much interaction throughout the whole process. It was a horse race to the very last."
"For 74 years Byerly RV has proudly represented the St. Louis area as the 'Center of the RV World.' As a third-generation family-owned company, we take our slogan 'For the Rest of Your Life' almost literally," stated Byerly's Communications Specialist Dave Hubatka. "Whether our customers come to us for Service, Sales, Parts, or Rental, we want to make sure that any door they enter leads to the same great RV experience. People use RVs to build memories and experiences with families and friends, and to just see places they've always dreamed of. If there's one thing we've learned over the years, the most important line from our infamous jingle is, 'You've Got to be There.'"
The RVB Top 50 Awards honorees will be publicly recognized on stage Nov. 9 at an all-industry reception held during the Recreation Vehicle Dealers Association International Convention/Expo at Caesars Palace Las Vegas Hotel & Casino, thanks to support from program sponsors Airxcel Inc., Dometic, Freightliner Custom Chassis Corp., LCI Industries, NTP/STAG, Cummins Inc.,
Genesis Products, Protective Asset Protection, Northpoint Commercial Finance, Brown & Brown Dealer Services and Wells Fargo CDF.
"We are thankful and humbled by the fact that we have been recognized again as a Top 50 Dealership in North America. To be honored among so many of our elite peers within our industry is a testament to both the reputation we've built as a company and the dedication we have to continuing our development across every department," remarked Patton. "Every day we ask ourselves, 'What else can we do to improve our customer experience', and that constant challenge is what guides our team in every decision we make."
For more information about Byerly RV, visit www.byerlyrv.com or call 636-938-2000.
STAY CONNECTED FOR MORE RV TIPS, TRICKS, AND HELPFUL INFORMATION:
Byerly RV Website
Facebook
Instagram
Twitter
Byerly RV, in Eureka, Missouri is the Priority RV Network dealer for the St. Louis, MO market. Byerly is a family owned company which was founded in 1948. Byerly RV is St. Louis's only Top 50 rated RV dealer from 2017-2021! Byerly is truly the Center of the RV World.
CONTACT US:
636-938-2000
800-878-3325
295 East 5th St
Eureka MO, 63025