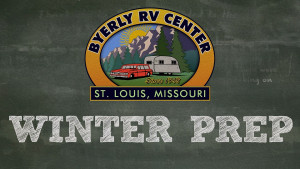 Byerly RV University Presents: Winter RV Prep – October 13th, 2020 at 6:30pm
Byerly RV in Eureka, MO presents an in-depth overview of everything that goes into getting your RV prepped for the winter season and how to save yourself hundreds of dollars in costly repairs that freezing temperatures could cause.  As we ramp up our first ever virtual season of Byerly RV University classes, be sure to join us on our YouTube channel.  Byerly RV has been providing these free monthly RV education seminars for over a decade.  Because of the unique environment of this year, we're happy to provide this great RV educational service in a virtual format.  Join us on our Youtube channel where the school streams will be broadcast.
All classes will be held virtually this year. To attend this online class, please visit our Byerly RV YouTube channel here: https://youtu.be/MIV4xXEswps
Be sure to subscribe to our Byerly RV YouTube Channel and press the bell icon so you don't miss when we upload new videos. https://www.youtube.com/user/byerlyrv?sub_confirmation=1
Check out our 2020-2021 Byerly RV University Schedule on our website at: https://www.byerlyrv.com/events/rv-school
Here's a link to our official Byerly RV University schedule announcement video: https://youtu.be/f_fwbWvx2CU
Join us on our Youtube channel where the school streams will be broadcast.
Be sure to subscribe to our YouTube channel and turn notifications on (press the bell icon).
Also be sure to check out the helpful information on our RV instructional videos.
STAY CONNECTED FOR MORE RV TIPS, TRICKS, AND HELPFUL INFORMATION:
Byerly RV Website
Facebook
Instagram
Twitter
Byerly RV, in Eureka, Missouri is the Priority RV Network dealer for the St. Louis, MO market. Byerly is a family owned company which was founded in 1948. Byerly RV is St. Louis's only Top 50 rated RV dealer for the past 3 years!  Byerly is truly the Center of the RV World.
CONTACT US:
636-938-2000
800-878-3325
295 East 5th St
Eureka MO, 63025