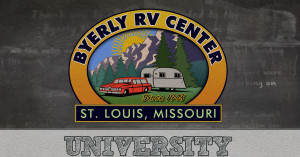 Don't forget to sign up for class! Byerly RV University is tomorrow, October 8th, 2019.  Our subject is just in time for the end of camping season: "Byerly RV University Presents: Winter Prep".
The class is an in-depth overview of everything that goes into getting your RV prepped for the winter season and how to save yourself hundreds of dollars in costly repairs that freezing temperatures could cause.  Be sure to visit our website at: https://www.byerlyrv.com/events/rv-school   to sign up today!
And even though we're getting ready for winter, there's still plenty of time to get out and enjoy the fall weather, or take a trip down south.  If you're interested in purchasing or renting a camper, we have a great selection of new and used RVs as well as available rental motor homes and travel trailers so that you can get out and begin enjoying right now! Come see us at Byerly RV in Eureka, Missouri. The Center of the RV World.
For more information visit Byerly RV in Eureka, Missouri – at I-44 and 109.  Call us at 636-938-2000 or check us out on Facebook or Instagram.