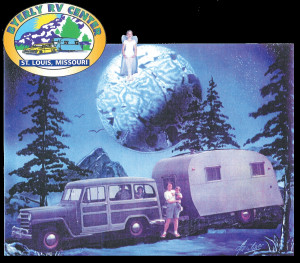 We hear so much about quality time. But it's the quantity of time we really want. As quality usurps quantity there is so little time to enjoy the freedom that makes America the envy of the world.
I knew a family that didn't have a lot of "quantity" measured by money and things. But every summer when Carter Carburetor closed down for three weeks, the family would pack up everything into their Byerly trailer and head out. Over 20 years, they visited Mount Rushmore, Devils Tower, the Everglades, Mesa Verde, Mackinaw Island, the Calgary Stampede and more. Campgrounds weren't like they are now, but the Warrens traveled in relative luxury in their 1954, 16 foot, Byerly Mansion.  Spending quantity time together.
Today we don't have to rough it. New RVs and Campgrounds make traveling a breeze. But, what an experience! You can't explain the feeling of the warmth of the sun on the top half of your body while the bottom shivers from the cold of the glacier you are standing on. You can't understand "improvise" until you build a s'more campfire from nothing more than nitrogen rich dried up cow pies! You can't explain the relativity of comfort until you've bathed in a Colorado stream with icicles hanging from the overhanging vegetation. You can't really "feel" America until you've spend quantity time walking the walk, sharing the vistas and hitting the open road.
You can see the old original Byerly trailer on display at our lot in Eureka, Missouri. Come see why Byerly RV has been an RV Business rated Top 50 Dealer for the past three years, help us celebrate our 72nd year in business, and see all of the history (plus the newest in RVs) at 295 E 5th St Eureka, MO 63025.  Check us out online at www.byerlyrv.com and visit us on Facebook. Byerly RV, the Center of the RV World.