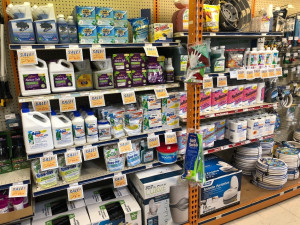 There are always questions about the different types of toilet chemicals that can be used in RV waste tanks and holding tanks. So, we are going to breakdown a few different types and discuss their advantages and disadvantages. First on our list is the difference between drop-ins and liquid pour-ins.
When using drop-ins, you are ensuring that you are using the proper amount. Too much chemical can be harmful to the tank over a long period of time. After dropping the pod down through the toilet, you will want to hold the flush valve open for 30-45 seconds to ad water to the tank for the pod to dissolve. You will want to do this before you start using the facilities. We recommend holding the flush valve open a few seconds longer after each flush as well, the more water in your waste tank the better. This allows for the chemical to liquefy the waste so that everything flows out more smoothly resulting in a cleaner tank.
When using liquid pour-Ins, you will want to follow the same steps as the drop-ins as far as how much water to use. To make sure you use the proper amount, you will want to look at the back side of the bottle for instructions on how many ounces to use. Some of the added advantages of the liquid pour-ins are that liquids are generally more cost effective and can be used to condition the bowl seal before flushing the chemical down into the waste tank. When an RV toilet sits without any water in the bowl, the blade can start to bond to the bowl seal. By pouring your liquid chemical into the bowl and letting it sit for 10-15 minutes, the chemical conditions the seal before flushing, which will prolong the life of your bowl seal.
In our July monthly update (see below), Rick talked about ways to clean your waste tank. We do have several chemicals and cleaners that can assist with that (Links below the video). Check out these products the next time you are in the store and we can go over how to use them and the benefits of each product.
• 206710 TANK BLASTER, HOLDING TANK CLEANER
• 20671 GREY WATER ODOR CONTROL
• 20687 TOILET SEAL CONDITIONER
Other RV parts products you can use are tank wands that go down through the toilet that you would attach a hose to and spays water to help clean the sidewalls and corners of your waste tank. You can also install a permanent tank flush to the tank so all you would have to do is attach a hose to a remote mount or directly to the tank that spins high pressure water to the inside of the tank. Some new RVs are now coming with this as a factory installed option.