The 5th Annual January Byerly RV Expo is happening now through January 30 both online and at our location in Eureka, MO. In addition to tons of new RV inventory like fifth Wheels, travel trailers, Class C motorhomes, and Class A motorhomes, we had our 1st RV School of the year streaming online, multiple weekly livestreams from Sales, Parts and more, our new Meet the Family YouTube Series, product videos with our expert reps, and a $50 RV Parts Gift Card drawing weekly*.

Join us online or in person for the Byerly RV Expo now through January 30
If you can't make it to Byerly RV in St. Louis, Missouri for the 5th Annual Byerly RV Expo, check out all of our great content online:
– Check out the regular live streams we'll be featuring on our YouTube page daily. Be sure to subscribe to our YouTube Page for more information and regular updates
– Check out the 360 virtual tours of the new RVs

– New to RVing? Check out our latest Byerly RV University Seminar. This class is your crash course on all things RVing. Everything from basic campsite set up, proper use and operation, to helpful tips and tricks from people who actually go camping every year.
– We're excited to release the first episode of our new series, Meet the Family, in which we will be sitting down and talking with different employees here at Byerly RV.
– Schedule your own personal RV viewing experience with one of our experts

– And don't forget to sign up for our $50 Parts Gift Card*weekly drawing through January 30, 2021.
– Additionally, at the Byerly RV Expo we are ready to serve our customers in other needs that do not require you to enter our building:
o Our Parts store is available online and updated with RV Expo pricing
o We can arrange for non-contact drop-off and pick up in Service
o You can contact us via email, phone, or by text using the text icon on our webpage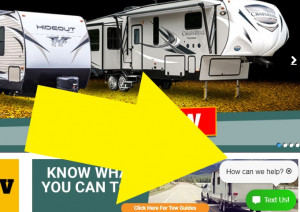 – All rental and service vehicles are fogged with disinfectant before maintenance is performed and after it is completed, to keep our team and our customers safe, this is a process we have continually performed throughout the pandemic.
– Our team required to wear face masks and respect proper social distancing. Additionally, our teammates are encouraged to stay home if they feel sick and are asked to complete a daily temperature check.
– Signage is posted throughout the building regarding proper hygiene and hand washing, Plexiglas is installed at all counters, and additional signage on our entry doors notes the St. Louis County requirement for wearing masks on the premises.
– Since the beginning of the pandemic our departments have designed new cleaning protocols to make sure high touch surfaces and counters are cleaned regularly throughout the day.
– For Our Team Members:
• Encouraging them to closely monitor their health and well-being.
• Asking employees to stay home if they or someone in their household are sick.
• We have canceled events with large gatherings and any employee travel for conferences.
In addition to normal communication, keep tabs on our Facebook and YouTube pages for frequent informational videos and other RV related information. Also keep up with our blog updates.  Visit our blog here for a ton of great information and Byerly RV History.
Byerly RV, in Eureka, Missouri is the Priority dealer for the St. Louis, MO market. Byerly is a family owned company which was founded in 1948. Byerly RV is St. Louis's only Top 50 rated RV dealer for the past 3 years!  Byerly is truly the Center of the RV World.
295 E 5th St
Eureka, MO
636-938-2000
(*No purchase necessary to win)