Are you looking for a motorhome that will offer versatility and affordability in one package? Well, you can stop looking, because the Thor Motor Coach Gemini has got it covered. This Class C motorhome is perfectly priced for people who are new to the RVing lifestyle or those who have been living life on the road for years, and with its economical price tag, you will be surprised to see that it offers all of the amenities of some of higher priced motorhomes.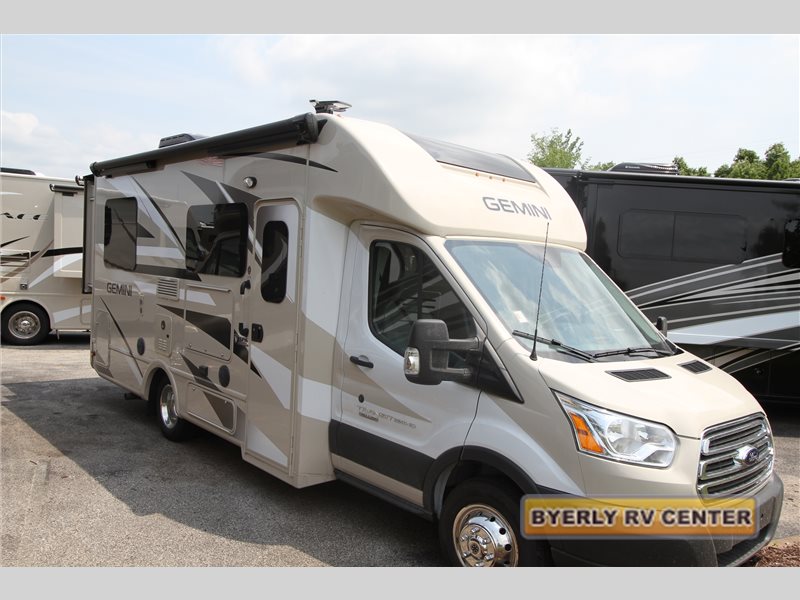 One great thing about the Gemini motorhome is that, as a Class C, it will be easier to handle and maneuver even in heavily trafficked areas. Plus, with features such as heated exterior mirrors and a back-up monitor installed in the rear view mirror, this RV will make sure that you can see all areas of your vehicle to increase your safety while driving.
From the outside, Thor Motor Coach motorhome might seem like it will not have enough space for comfort, but do not let appearances deceive you as this RV has a unique design that keeps it compact while still offering enough space for all of the interior features you could possibly want. For instance, some of what you will find inside is as follows: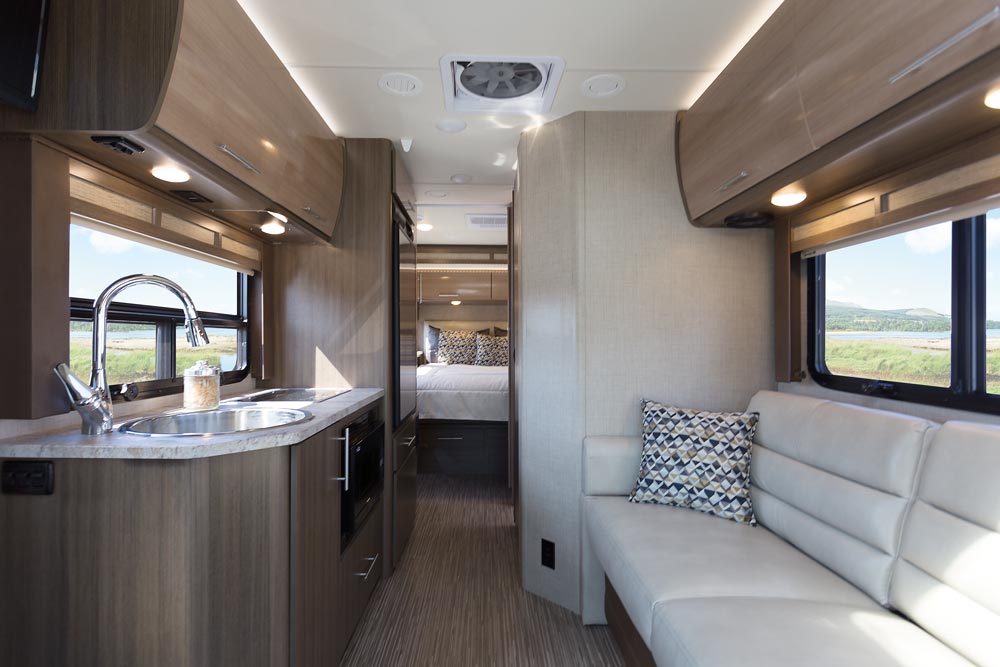 Full Kitchen: The kitchen area of the Gemini will have everything you need for cooking and storing your food. The large appliances such as the refrigerator, stove top, sink, and microwave allow you to prepare and cook your meals as though you were at home.
Plenty of Storage: Throughout the entirety of this motorhome, there will be places for you store your belongings. From the living room and master bedroom cabinets to the exterior storage containers situated underneath the RV, you will have a place to put everything you need for short or long-term trips.
Deluxe Bedroom and Bathroom Amenities: The bedroom and bathroom areas will offer style that cannot be beat. A luxurious queen size bed welcomes you to rest easy in the master bedroom, and the high end bathroom appliances will make life on the road more comfortable.

Always get a good night's sleep on the queen sized master bed.

Entertainment: With all of the entertainment in our lives, it is important to have the options for watching your favorites shows no matter where you are, and with multiple LED televisions, Digital and Cable TV hookups, and more, you can enjoy your entertainment the way it was meant to be enjoyed.
The Thor Motor Coach Gemini offers everything you need in a smaller package with a price that will be easy for anyone. You cannot go wrong with one of these incredible Class C motorhomes, so be sure to contact us or come by our location to see what you can do to drive away in one!