Back in the 1940's Walter Byerly, a cabinetmaker, decided to build house trailers, an original type of RVs.
In 1954 the Warren family purchased a 16' Byerly travel trailer. Every summer Carter Carburetor would close down for three weeks and the Warren family went on vacation. So began a 25-year odyssey covering 47 states. Hardly a national park or road side monument was missed. Their adventures were documented with hundreds of slides and detailed records of their expenses, like $6.06 for groceries, $3.69 for 10 gallons of gas and overnight camping for $1.50.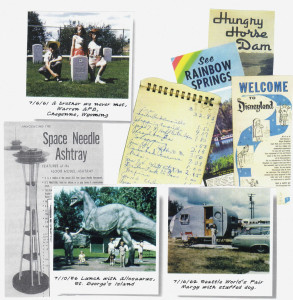 Years later, Russ Patton, owner of Byerly RV, married Adrienne Warren and they set out across the country with the trailer pulled by a 1954 Studebaker. But that's another story.
RVs have changed and costs have risen, but all of those beautiful places are still there. And RVing is still the most economical, enjoyable and memorable way to visit them. You are not limited to two "carry-ons." Instead of peanuts and pop, your refrigerator is filled with food! Legroom, bathroom, bedroom, and the chances of being stripped search are minimal.
But the best part is traveling at your own pace with family and friends with all the comforts of home. It's the journey, not just the destination that is most rewarding. Byerly RV, in Eureka, has an RV for you…for rent or for sale. Visit Byerly and see the original 1954 Byerly RV on display. Check us out on Facebook. Just 15 minutes west of I-270 on I-44 in St. Louis, MO.